Over 50 killed, dozens wounded in 3 separate ISIS attacks in Iraq
More than 50 people were killed in and near the Iraqi capital of Baghdad on Saturday, security sources and medics said as cited by Reuters. Terrorists targeted a mass Shi'ite Muslim gathering, as well as a police check-point and home of a militia leader.
The deadliest attack targeted a tent filled with people taking part in Shi'ite rituals, marking Ashura, which commemorates the killing of Prophet Mohammad's grandson Hussein in the 7th century. At least 41 people were killed and 33 injured as a suicide bomber detonated an explosive vest inside a tent at a crowded market in Baghdad's northern al-Shaab district.
Islamic State (IS, formerly ISIS/ISIL) terrorist group has claimed responsibility for the attack, according to SITE website that monitors the group's publications on the web.
Two more shooting attacks were staged north of Baghdad. Gunmen, who also are believed to be IS militants, targeted a police check-point in Mutaibija, killing eight policemen and wounding 11.
The house of a Sunni militia chief who supports the government was also attacked on Saturday, police said. Four of his family members were killed by gunmen who stormed the house in the town of Ishaq. The assailants later killed themselves by detonating explosive belts.
Read more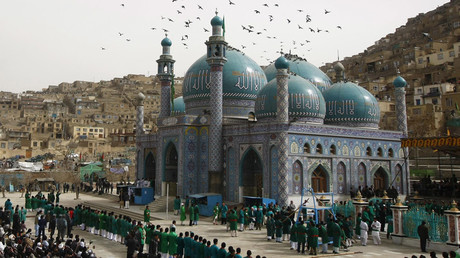 The group has carried out similar attacks in the past. It was behind last Sunday's bombing in eastern Baghdad that hit a tent where Shi'ites were distributing refreshments, killing at least five people and wounding 22 others. Iraqi officials said a total of three bomb attacks have killed 10 people and wounded at least 37 across the Iraqi capital the same day.
Shi'ite Muslims in Iraq are frequently attacked by IS, which consists of Sunni extremists who regard Shi'ites as heretics.
Around 30,000 Iraqi security personnel have been deployed to the city of Karbala, a holy site and place of pilgrimage during Ashura celebrations, to protect Shi'ite pilgrims. The city is where Imam Hussein is buried. Marking his death is not just a signature festival of mourning for Shi'ite Muslims, it also lies at the heart of the Sunni- Shia split, making Ashura a target for sectarian attacks.
READ MORE:Shia Muslims mark religious festival of Ashura with prayers and self-flagellation (PHOTOS, VIDEO)

Ashura is mostly marked by Muslims through prayer and voluntary fasting, but Shi'ites often reenact the martyrdom of Hussein by participating in self-flagellation. This fact has been criticized by some Muslim leaders who have said the graphic scenes of self-harm cast the event in a negative light.