Walking Freedom: Iraq home of largest rally against terror in the world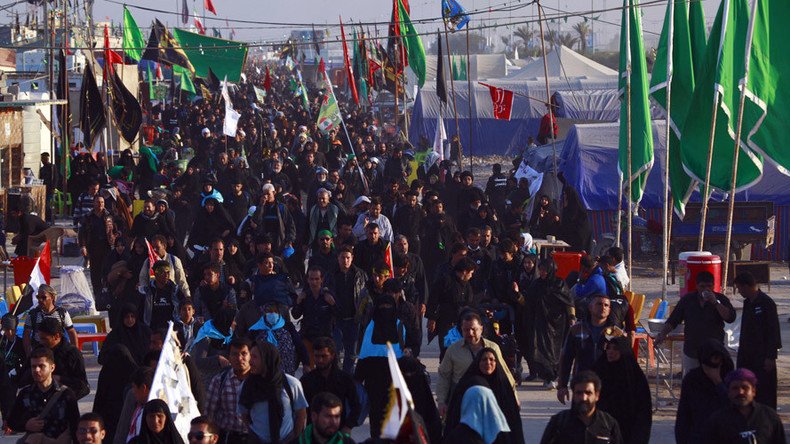 Arbaeen is the 40-day mourning period following Ashura, the religious ritual for the commemoration of the Prophet Mohammad's grandson's death in 680 AD – one last goodbye from a community in mourning.
Antoine Bara, the prominent Lebanese writer, wrote in his book: 'Hussain in Christian Ideology:' "No battle in the modern and past history of mankind has earned more sympathy and admiration as well as provided more lessons than the martyrdom of Hussain in the battle of Karbala."
This year, 30 million pilgrims have ventured onto Daesh territory to enact an allegiance which stands beyond all matters of religious denominations, ethnicities and political affiliations. For the love of one man, one Imam: Hussain ibn Ali, Custodian to Islam's tradition. Unlike the Hajj, which remains an obligation onto Muslims, the pilgrimage of Arbaeen sits well beyond a simple exercise in piety, or religious duty; Arbaeen speaks of allegiance and remembrance.
Arbaeen, which ranks as the largest rally on the planet, reaching 20 million attendees last year, serves, I believe, as a mirror to our humanity, an affirmation that our true nature lies in our ability to push against injustice on behalf of those whose voices were stolen away.
'The Great Walk,' as many have called it, has towered mighty in the face of oppression – whatever its forms, whatever the agenda, and whomever it has intended on persecuting. Never before has the world witnessed a greater rally against the terror of Wahhabism and the abominations it has brought in its wake.
The old, the young, the disabled - men, women, from all four corners of the globe - have come with one name on their lips, across faiths, beyond faiths they have come together to speak against the horror of radicalism and consecrate Freedom as an inalienable human right.
You would think that in times such as ours, when bigotry, prejudices and rampant fascism threaten still to engulf us, media would use Arbaeen as a reminder of what could be when communities stand united – hope that harmonious unity is in fact feasible.
However, silence is what the mainstream has offered instead. Why offer hope when despair offers such enticing benefits? Why fathom that Islam is not in fact sectarian or hateful when painting communities under the terrible brush of Wahhabism allow for the institutionalization of Western military interventionism?
Why indeed?
Regardless, and most probably in spite of corporate media's shunning, Arbaeen pilgrims have walked more numerous every year to the shrine of Hussain, right under the nose of the Black Caliphate – very much an echo to the Imam's own stand against the army of Yazid in Karbala, when deception was called righteous and courage a rebellion.
It is maybe that Karbala speaks too loudly of a history Wahhabism would like to negate that pilgrims and those most loyal to Hussain ibn Ali have suffered persecutions after persecutions. Shia Muslims it needs to be said have been mocked, killed, tortured, and overall branded heretics for they have always refused to bow to tyrants and abandoned Islam's spiritual legacy.
In his book, 'Force and Fanaticism: Wahhabism in Saudi Arabia and Beyond,' Simon Ross Valentine writes: "In their raids onto Persia and Syria the contempt the Wahhabis had for Shia Muslims was seen in their destruction of Shia holy relics and tombs." Valentine refers to the 18th century – fast-forward a few centuries and nothing has changed: same blind hatred for historical artifacts and religious pluralism.
Where Wahhabism – Saudi Arabia's state religion, has worked to disappear religious sites across the Greater Middle East, to better deny that other faiths once breathed their own beliefs without fear of repression, Shia Islam has barricaded its heart, its traditions, and its principles in the holy city of Karbala, and from behind its walls promised all safe refuge and peace.
Zaineb Hussain from the Baqee Organization defined the spirit and purpose of Arbaeen most eloquently when she told me: "Arbaeen stands today as the greatest pilgrimage of all times. Imam Hussain's words "Those who are silent when others are being oppressed are guilty of oppression themselves" inspire an ordinary human being to defy all laws of humanity & sacrifice everything in pursuit of truth. Arbaeen today is a symbol of interfaith tolerance, a symbol of resistance in the face of terror. Arbaeen is unparalleled, and unadulterated generosity."
Arbaeen is Christianity, Judaism, Yezidism, Sunni and Shia Islam, Zoroastrianism, Sufism and countless other schools of thoughts united in one Resistance, one Declaration of Freedom. Maybe we ought to listen to those fires lit up in Karbala for they speak of our collective hopes, our yearning for dignity and peace.
There are worse stands than that made in Karbala on Arbaeen. But there will always be those who chose to see heresy, of course, there will always be those powers which seek to drown hope to better promote mistrust and argue secular ethno-centric political righteousness to assert their systems of enslavement.
Truth is, Freedom requires bravery … maybe it is courage more than tolerance we ought to master to defeat the abominable rise of Wahhabism across our continents. Maybe we could do with a good old reality check since we continue to blame the oppressed for the horrors tyrants dispensed them, rather than challenge tyranny itself.
Only if for a few days the pilgrimage of Arbaeen manages to do what military superpowers have failed to accomplish – to keep Terror at bay.
Arbaeen today has risen in defiance of the greatest threat of all: that of Terror, that of fanaticism and religious persecution, that of division and indoctrination. To reclaim their humanity and proclaim their right to breathe free in their differences 30 million of men and women have come to Karbala, the very land which saw a hero fall, and a movement born.
Arbaeen is not Muslim – it long transcended any, and all religious labels … Arbaeen is like the station of Imam Hussain, immovable, universal, ever-lasting.
I personally gain comfort in the knowledge that there is still a space where all people belong, and none are turn away, a safe-haven where generosity is not dispensed in cold arrogance but acceptance.
So yes, amid the tumultuous waters of geopolitics, Arbaeen comes a welcomed respite. Go on look for yourself and meet Hussain ibn Ali's movement, you might find it speaks those principles you claim for yourself.
This article is dedicated to the millions of men and women who, coming November 20-21, 2016 will stop time itself, and from the great city of Karbala in Iraq walk Freedom. For Arbaeen they have all come. - Catherine Shakdam
The statements, views and opinions expressed in this column are solely those of the author and do not necessarily represent those of RT.
You can share this story on social media: