Toys 'R' Us pulls model truck from shelves after product bursts into flames (PHOTOS)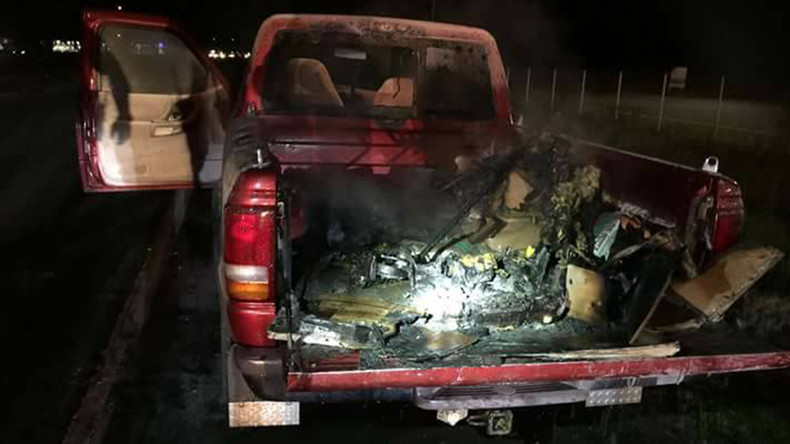 Chain store Toys 'R' Us has stopped selling a children's truck model after a couple who purchased the item were driving home and it burst into flames in the back of their pickup truck in Bellingham, Washington.
Delmond and Roxsane Harden were returning from the toy store with the 'Tonka Mighty Wheels dump truck' as a Christmas gift for their grandson when the product burst into flames in the back of their Ford Ranger.
Delmond Harden, who was driving at the time, immediately pulled over to extinguish the fire. He then decided to drive back to the store, only for the toy to ignite for a second time and end up spreading, setting the couple's vehicle on fire.
Speaking to CBS, Roxsane Harden said "sparks and smoke" were coming from inside the box "like fire."
"I said, 'We've got to pull over. We've got to get out of this truck,' so we pulled over. Flames start shooting."
By the time emergency services had arrived, the flames were so strong that an extinguisher was unable to put out the fire.
"So they told me to get whatever I needed out of the car, like my purse," she added. "So I'm in the back grabbing my purse and stuff and as I'm leaning over, I hear, 'Pop!' and all this glass shattered in front of me. And then there was smoke and dust inside."
Toys 'R' Us said the company would no longer be selling the toy truck until a full investigation is carried out.
READ MORE: Popular toy identified with high levels of lead, nationwide recall sought
In a statement, the toy chain said it will work closely with the manufacturer to establish what happened.
"Although this appears to be an isolated incident, out of an abundance of caution, we are implementing a stop-sale and pulling the item from our stores and Toysrus.com pending further investigation. In the meantime, we are working closely with Dynacraft, the manufacturer, to determine the cause."
READ MORE: Rubik's Cube loses EU trademark protection over its shape