Popular toy identified with high levels of lead, nationwide recall sought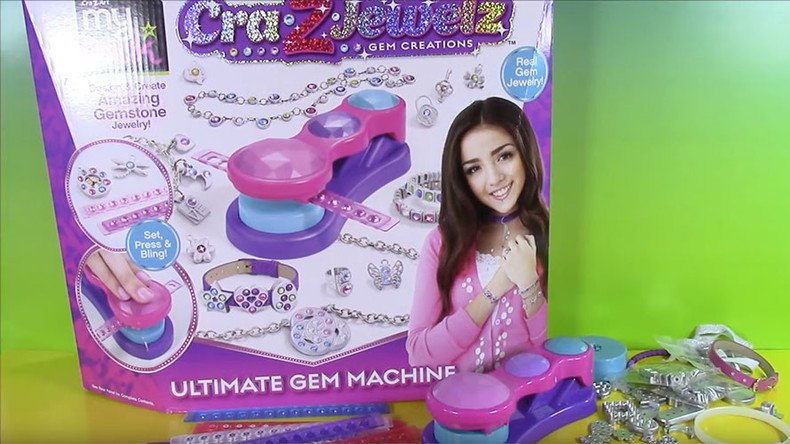 New York's attorney general is seeking a nationwide recall of widely sold toys after finding they contain dangerous traces of lead. The top US consumer product safety regulator has also opened an investigation, pledging to take further measures.
New York Attorney General Eric T. Schneiderman sent a recall request to the US Consumer Product Safety Commission (CPSC), expressing concerns over Cra-Z-Art children's jewelry-making kits.
New York's extensive probe has revealed that the toy contains lead concentrations in excess of 100 parts per million, a limit established for children's products by the CPSC. Some items in the Cra-Z-Art kits appeared to have lead concentrations amounting to nearly 10 times the limit, the attorney general's office said.
"Specifically, the components of these children's products that contained excess levels of lead were bands that resemble leather. Lead content in the products tested ranged from 120 ppm to 980 ppm," Schneiderman wrote.
Between October of 2015 and November of 2016, Schneiderman's office ran several tests on at least 10 Cra-Z-Art kits bought at nine Kmart, Target, and Toys "R" Us stores in New York.
The products include the Shimmer N' Sparkle Cra-Z-Art Cra-Z-Jewelz Gem Creations Ultimate Gem Machine, the Shimmer N' Sparkle Cra-Z-Art Cra-Z-Jewelz Gem Creations Gem Charm and Slider Bracelets, and the My Look Cra-Z-Art Cra-Z-Jewelz Gem Creations Ultimate Gem Machine.
Before the announcement, Cra-Z-Art products were available both online and in Kmart, Target, and Toys "R" Us stores. Other retail giants offering the toy included Amazon, Sears, and Walmart.
"We believe these items present a risk to children due to their high lead content and that a national recall is warranted," Schneiderman said in his address to CPSC Chairman Elliot Kaye.
In response, the CPSC launched its own investigation and is now examining the safety of Cra-Z-Art kits, Kaye said on Friday.
"Just hours after receiving information about these jewelry making kits, CPSC staff opened an investigation into the safety of these products," Kaye said, adding that "preventing children's exposure to harmful metals and chemicals" has long been one of his top priorities.
Kaye has vowed a "thorough and swift" investigation, saying that the regulator would "take all warranted steps" to protect children.
In the meantime, retailers have also been notified of the potentially risky product. Toys "R" Us has said that it is reviewing the matter, and that "out of an abundance of caution, we are working to pull the items from our stores and website," Reuters reported.
As of Friday evening, the lead-containing products were unavailable at the Toys "R" Us online store. Both Target and Walmart have also removed Cra-Z-Art kits from their internet shops.
You can share this story on social media: