Rubik's Cube loses EU trademark protection over its shape
Published time: 10 Nov, 2016 13:49
Edited time: 10 Nov, 2016 13:51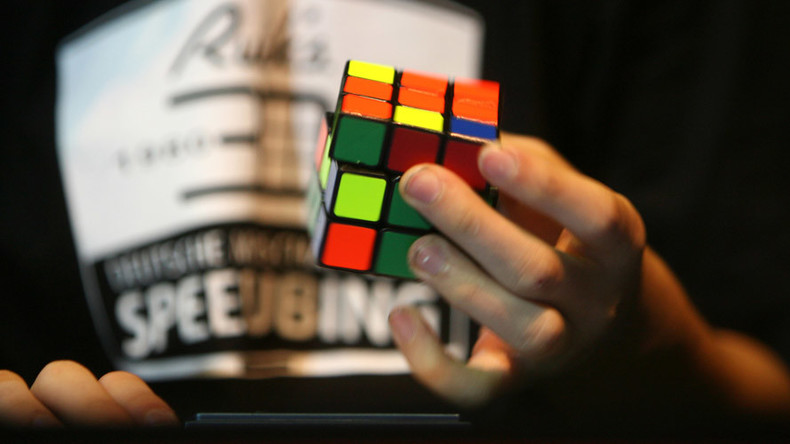 The European Court of Justice (ECJ) has taken away the multicolored three-dimensional Rubik's Cube puzzle of some of its EU trademark protection. The door is now open for other producers to copy the toy.
The decision hinges on the Rubik's Cube shape which cannot be trademarked since it is essential to its function.
The puzzle was invented by Hungarian Erno Rubik more than 40 years ago and is still popular. Over ten million cubes are sold annually worldwide.
The Rubik's shape was registered by British firm Seven Towers as a three-dimensional EU trademark as early as 1999.
Seven years later, German toy manufacturer Simba Toys challenged the trademark protection, claiming the cube's rotating capability can be protected by a patent but not a trademark.
Patents commonly stop copiers making commercial use of an invention without the approval of the creator for a certain period of time. Trademarks give intellectual property owners an exclusive and perpetual right to logos, designs, phrases or words as long as they are used.
READ MORE: Supreme Court takes up trademark case that could impact Washington Redskins

Simba Toys appealed to the ECJ after the suit was rejected by the European Union Intellectual Property Office (EUIPO) and a lower EU court.
"In examining whether registration ought to be refused on the ground that shape involved a technical solution, EUIPO and the General Court should also have taken into account non-visible functional elements represented by that shape, such as its rotating capability," Reuters quote the judgment.
EUIPO will have to issue a new decision based on the ECJ decision.
READ MORE: Apple lodges patent for a paper bag called… 'Bag' (PHOTO)

In recent years, several large manufacturers have failed to secure trademark protection for distinctive shapes.
In January, the Swiss food corporation Nestle didn't get to trademark the four-fingered KitKat chocolate bar in the UK as the shape was not distinctive enough to gain this kind of protection.
Danish toy maker Lego lost trademark protection over its own Lego bricks six years ago, though won the right to trademark its mini figure toys, representing different characters.