Stranded NZ cows rescued as quake-hit areas plagued by aftershocks, torrential rains
Published time: 15 Nov, 2016 09:09
Edited time: 15 Nov, 2016 16:30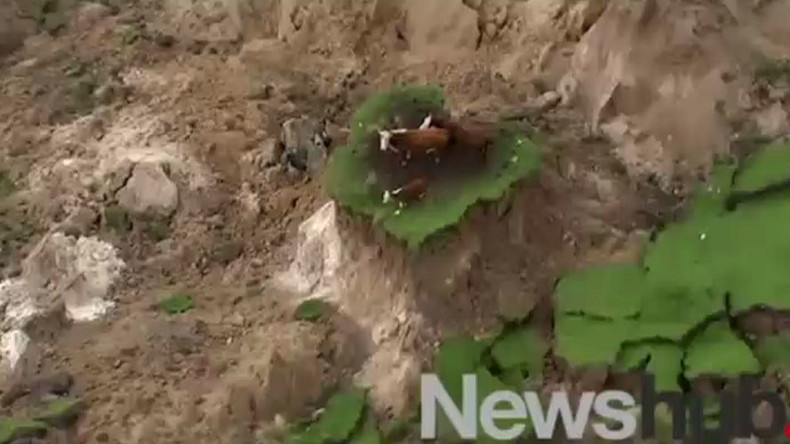 Two cows and a calf stranded on a grassy hilltop pushed up by an earthquake, which had the internet rooting for them after being filmed from a helicopter, have been rescued. Meanwhile, aftershocks, landslides, and heavy rains continue in the afflicted area.
Tuesday's rescue operation was led by the bovines' owner, a local farmer from Kaikoura, a town on the east coast of South Island some 60 kilometers from where a powerful 7.5-magnitude quake struck New Zealand Sunday night, killing at least two people.
The world got to know the unlucky trio after they were captured in helicopter footage that was uploaded to Newshub on Monday. The farmer said they were a part of a group of 14 cows, all of which have now been rescued with the help of volunteers. The rescue operation was a challenging task to due to the possibility that strong aftershocks and landslides could alter the terrain even further, which could have posed considerable risks to the rescuers' safety.
"We dug a track with a number of people – the soil was quite soft because it had all been tipped over and bumbled around; we managed to get a track in and bring them out," the farmer said, as cited by Newshub, which added that farmers in the area lost livestock when "the whole hillside fell during the earthquake."
In another viral moment of the day, as New Zealand Finance Minister Bill English was telling the media how the government plans to help the hardest hit areas during Parliament questions, he was interrupted by an aftershock on live TV. The minister appeared to take the strong tremor that left the Parliament building shaking in stride, however, even using the moment to pull a joke: "Next time I'll be more careful about what I say," he said.
As aftershocks continue to rock South Island, emergency services, army helicopters, and naval vessels are engaged in a mass evacuation effort to remove tourists from town of Kaikoura, a well-known whale-watching site that has been practically cut-off by landslides and road damage.
"We're looking to do as many flights as we can out of Kaikoura today... to move approximately 200 of those tourists and residents south," acting commander of New Zealand's joint forces, Air Commander Darryn Webb, said.
One of the strongest aftershocks, which measured 5.4 on the Richter scale, was felt in Wellington on Tuesday. Meanwhile, howling winds and torrential rains are hindering rescue efforts. According to Civil Defense estimates, up to 100,000 landslides have been triggered by the quake.
In the city of Wellington, a high-rise building has been evacuated, with reports that at least three of its floors have collapsed. Representatives of the fire department told reporters that they feared the entire structure may come down.