'Wall of water': Slip dam breached on New Zealand river, residents urged to seek higher ground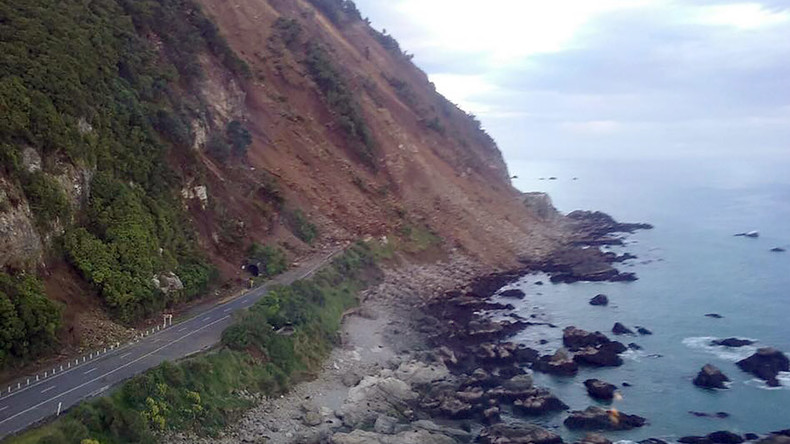 Residents of the Marlborough region of New Zealand have been urged to go to higher ground immediately, after a slip dam breached on the Clarence River following a powerful earthquake and series of aftershocks.
Emergency workers began evacuating residents at around 3:30pm local time on Monday, before the slip breached, as a precautionary measure, the New Zealand Herald reported.
Authorities are currently searching for a group of kayakers thought to have moved to higher ground after their gear was found close to the river bank, Marlborough civil defence said on Twitter. A separate group of 16 rafters, previously believed missing, has been contacted by rescuers and are safe.
The water is likely to flow at 1,000 m3/s to 2,000 m3/s, far exceeding once-in-a-decade flood volumes, according to Environment Canterbury. It would take three to five hours for the "wall of water" to travel the length of the river and reach the coast, stuff.co.nz reported.
Located on South Island, New Zealand, the Clarence River is 230 kilometers (140 miles) long, making it the eighth longest river in the country.
It comes after a powerful 7.8 magnitude earthquake struck South Island just after midnight local time on Monday, triggering a tsunami and a series of aftershocks which left at least two people dead. More than 400 aftershocks have been recorded within the past several hours, according to New Zealand Geological monitoring program GeoNet.
READ MORE: New 6.2 aftershock shakes New Zealand after powerful 7.8 earthquake kills at least 2
Despite the quakes triggering a small tidal wave, the initial tsunami warning was later lifted. Tremors continued into Monday afternoon.
South Island is the larger of the two major islands of New Zealand, covering an area of 150,437 square kilometers (58,084 square miles).
New Zealand Prime Minister John Key said Monday that the damage from the previous night's earthquake is likely to cost at least "a couple of billion [New Zealand] dollars ($1.4bn)."
"It's hard to believe that the bill is going to be less than a couple of billion," Key told Radio New Zealand, according to their Twitter account. "It's just utter devastation… That's months of work," he said while flying over the destruction in Kaikoura by helicopter on Monday afternoon, as cited by ABC, adding, however, that authorities had no reason to believe the death toll from the quake and its aftershocks would rise above the two fatalities reported earlier.
"On the very best information we have at the moment, we think it's only likely to be two. But of course there are isolated parts of the country which we don't have perfect eyes on, so we can't be 100 percent sure," Key said. Officials decided not to declare a national emergency because the regions were able to adequately cope with the situation.