Lizard battles onslaught of snakes in nerve-shredding death chase (VIDEO)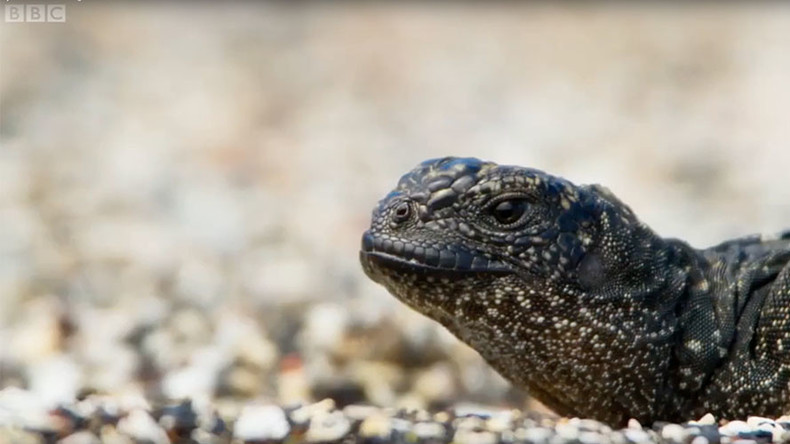 Heart-racing footage of a young marine iguana escaping a nest of hungry snakes and literally running for its life went viral on social media after airing on BBC's 'Planet Earth 2'.
Social media users hailed the chase "the greatest chase scene in motion picture history".
The clip opens with a snake spotting and chasing the young lizard, which suddenly stops stock still in its tracks in an effort to hide from its pursuer.
Presenter David Attenborough sets up the tension that follows by explaining that although snakes can't see very well, they can detect movement. If the iguana can manage to stay calm and very, very still, he may just about manage to escape what would surely be a brutal death.
READ MORE: 'Boaty McBoatface' finally under construction with help from David Attenborough
Unfortunately, after trying to hold its nerve in the face of death, the young iguana can't wait any longer and instead decides to make a last ditch dash for freedom.
Suddenly, several other hungry snakes emerge and chase the iguana at speed.
The tense chase takes an incredible turn when the iguana is suddenly enveloped by snakes. They begin to constrict the lizard in what looks like the beginning of the end.
Restoring your faith in the power of the underdog, the iguana somehow escapes his captor's grip to make a miraculous getaway.
A tweet sharing the incredible footage went viral with an incredible 150,000 retweets within one day of posting.
The new TV series opened on the BBC to a reported 9.2 million viewers – the biggest natural history opening audience in more than 15 years, according to the Guardian.
You can share this story on social media: