Exploding e-cigarette engulfs man in flames in horrifying CCTV footage (VIDEO)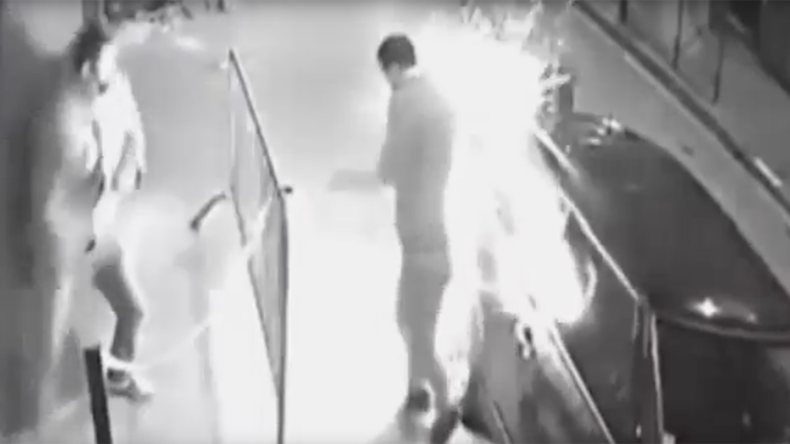 More evidence has emerged that e-cigarettes can be bad for your health after a French nightclub manager suffered second-degree burns when the vaping device in his pocket dramatically exploded.
Terrifying CCTV footage from outside the Toulouse club shows Amine Britel suddenly being engulfed by flames as he chats to fellow smokers. Two men rush to his aid, frantically attempting to put out the fire while Britel leaps about in panic.
Moments earlier, he could be seen vaping on the e-cigarette before placing it back in his trouser pocket.
While the flames were brought under control within a matter of seconds, Britel was left with significant burns to his hand and hip area
"I heard what sounded like a firecracker but ten times louder," he said of the incident which occurred in late October. "After the shock of the explosion, I realized I had caught on fire."
He believes the e-cigarette's hot battery came into contact with coins in his pocket and the resulting sparks caused the explosion. Though the name of the device's manufacturer has not been disclosed, Britel confirmed he has reported the incident to the China-based firm.
The Toulouse case is the latest in a string of serious incidents involving e-cigarettes in recent years. In February 2016 a woman in Bayonne suffered burns when the device she was using suddenly caught fire inside her car. The flames went on to engulf and destroy three other nearby vehicles.
In 2014 a man in Merseyside, England died when the e-cigarette charging in his bedroom exploded, igniting the oxygen concentrator he was using.
Earlier this year a 19-year-old man working at a California convenience store was treated for burns when the e-cigarette he was carrying in his pocket exploded, propelled itself 15ft (6 meters) into the air and tore his pants to the knee.
CCTV footage has also captured the moment a charging e-cigarette exploded right in the face of a barmaid in the UK in 2014.
You can share this story on social media: