Poop allegedly 'falls from planes' in residential areas of Delhi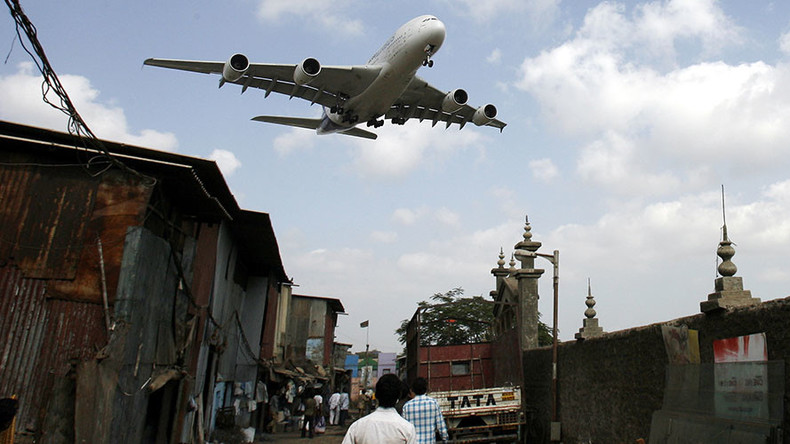 Allegations of human waste falling from aircrafts over residential parts of southern Delhi are being investigated by India's environmental court.
The National Green Tribunal of India is to look into the allegations after a complaint was lodged by former senior army official Satwant Singh Dahiya, who is seeking criminal proceedings against commercial airlines for posing a health risk to householders in the areas hit, Deccan Chronicle reports.
The request also demands that any potential waste be examined as evidence prior to the tribunal.
READ MORE: Norwegian man gets stuck in toilet rescuing phone (PHOTOS)
The official also requested a 24-hour helpline residents can access to immediately to report such incidents and a monitoring system to prevent aircrafts from drops of "human soil or excreta" when landing.
"For the past one week in the early morning, we found that walls and floors of terraces of our house splattered with large patches of excreta dumped by aircraft[s] flying in front of Palam airport at night," Dahiya said.
"This is the second time this has happened. Last time it had occurred in early October when we had spent Rs 50,000 [$748] to get the entire exterior resurfaced with fresh paint," he added.
In the plea, the complaint highlights the Hindu festival of Diwali approaching and how householders "cannot afford to have this defacement everyday."
READ MORE: Crane crash: Air India plane smashes during airport maneuver
Toilets on aircraft store human waste in holding tanks where it remains for the duration of the flight and is then sucked out with a special vacuum by crews on the ground.
Technically, human excrement can be dangerous if dropped from substantial heights. Known as "blue ice," the force of the objects is enought to tear through roofs or smash cars.
READ MORE: 'Oh sh*t!' Cheeky baboon throws poop at two little girls (VIDEO)
WATCH MORE: