RT hits record 4 billion views on YouTube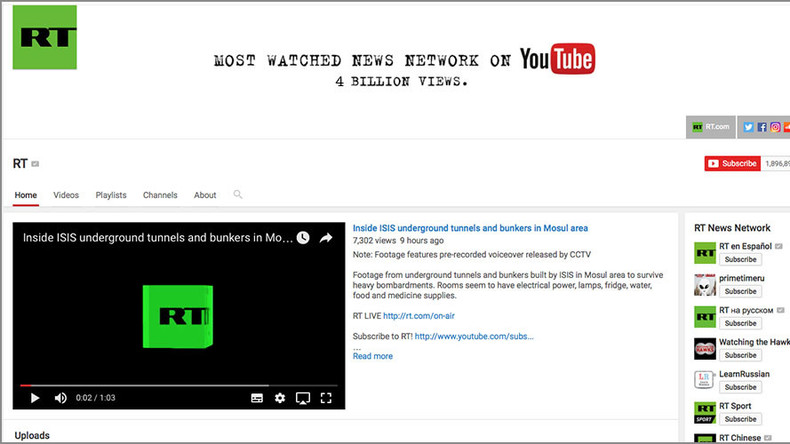 RT's YouTube channels have surpassed 4 billion views, sustaining RT's title as the world's leading news network on YouTube, and widening its lead on mainstream media TV news channels such as CNN and the BBC.
The record-breaking number of views from across RT's varied news channels including RT, RT Documentary and Ruptly TV, amount to three times the YouTube views that Euronews enjoys and more than seven times those of the BBC's news channels combined.
"The future of media is inextricably linked to the internet. Once you fall behind in this field, it's difficult to catch up. From the very beginning RT has focused on developing its digital platforms, and this has been the key to our success," said RT Editor-in-Chief Margarita Simonyan.
RT has been leading the way in YouTube news delivery since the platform became available in Russia in 2007.
At the time, RT was the first Russian TV channel to embrace the new media concept and by 2011, RT's content had gained the recognition of YouTube and was awarded the most popular news video of the year.
The award marked the beginning of RT YouTube's rise to international acclaim; the following year, 2012, the Pew Research Center named RT the top news producer on the platform. By 2013, RT had become the first news channel in the world to hit 1 billion views on YouTube.
READ MORE: RT social media wins 'People's Voice' at Webbys – the 'Oscars of the web'
"For many years now RT has been an unconditional leader on YouTube, the most popular video-hosting platform in the world. Four billion views is a new milestone, and we are aiming to raise the bar even further," said Kirill Karnovich-Valua, RT's Head of Online Projects.
Without doubt, 2016 has been RT's best year to date. In April it received the People's Choice award at the prestigious Webby Awards ahead of BBC News, ABC News, NBC Nightly News and the New York Times.
READ MORE: RT America bags 2 prizes at New York Festivals International TV & Film Awards
In September, RT took home seven Lovie Awards, the pan-European awards honoring online excellence. And RT finished the year on a high by solidifying its seat at the top with over 4 billion YouTube views.
Aside from its YouTube success, RT broadcasts in six languages, has more than 13 million Facebook fans, 6 million Twitter followers, and a live audience of millions around the globe.
You can share this story on social media: