Football team suspended after playing adult in kids league game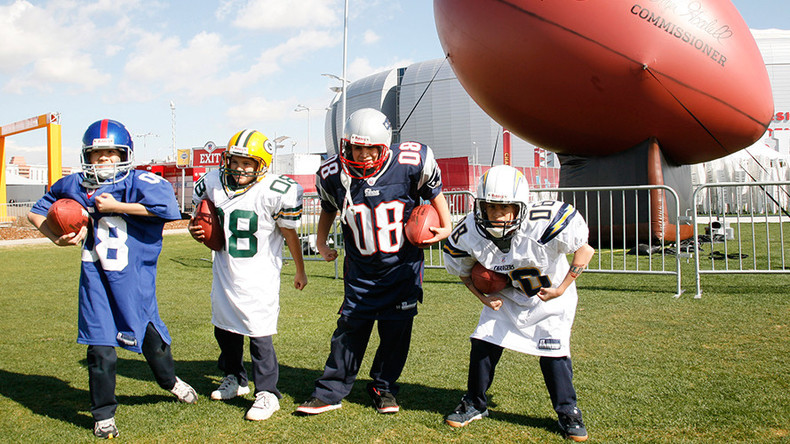 Several divisions of a football team in the US state of Rhode Island have been banned after an adult posing as a child was substituted into a game between 13 and 14 year olds. Parents became suspicious when they noticed the sub's facial hair and tattoos.
The Capital City Buccaneers from Providence are now on hiatus after the incriminating play during their encounter with the Scituate Titans during the game on Sunday, which they had been losing.
The bold decision made by one coach has led to the suspension of all 60 of the Buccaneers' players and cheerleaders, aged between nine and fourteen, from several divisions of the leagues.
Looking a bit out of place, the man, believed to be 19-years-old, who came on as a substitute was involved in several plays before officials ordered him off after parents in attendance alerted them, according to WPRO.
"We noticed his arm tattoos, facial hair. Not like a normal 8th grade student," parent Kevin Stockwell said. The player was reported to have been an older brother of one of the team's players.
The team has been banned indefinitely from the Rhode Island Pre-Teen Football League and their coach has been dismissed.
NEW: After conference call League VP says the Capital City Buccaneers have been dismissed from the league @abc6

— Samantha Fenlon (@SFenlonABC6) October 24, 2016
"My organization doesn't tolerate things like that. We are very concerned with children's safety," the team's founder Alexandra Diaz told WPRO.
"In my organization we're concerned about the education and safety of our kids. That's why we do this – to take the kids off the street and give them some positive energy. So for them to do that to us, it's a very big disrespect," said Diaz.
Nelson Pedro, vice president of the league, told WPRI the decision extended beyond the one team, as the Buccaneers had made several infringements on all levels including forfeiting three games as they were unable to assemble a team.
With only one game left in the season, Pedro said the decision would not affect them as they were unlikely to reach the playoffs. The Buccaneers can reapply to join the league next season, he added.
Speaking to WPRI the unidentified overage player said he was remorseful. The coach claimed his ego got in the way, leading to him making the bizarre substitution decision.