Clinton campaign yet again distracts from Podesta revelations with misinformation about RT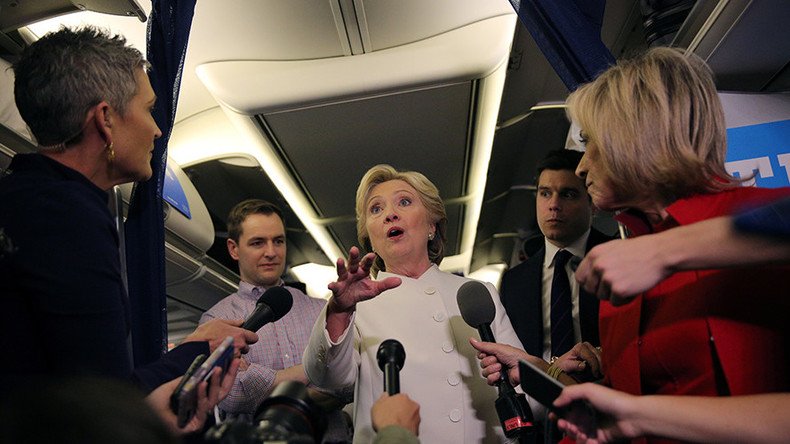 As WikiLeaks continues to release emails from Hillary Clinton's campaign chair John Podesta, team Clinton has attempted to deflect attention from the content by again accusing Russia of "weaponizing" false information.
After more than a dozen separate batches of leaks from Podesta's email account, RT journalists were simply doing their job and searching the WikiLeaks public database to uncover potentially damaging correspondence.
However, this was enough for the Clinton campaign to continue claiming it is evidence of an alleged Russian conspiracy to interfere in the US elections.
Clinton's national spokesman Josh Schwerin said Friday that RT breaking the latest Podesta emails release before WikiLeaks had tweeted about it was because WikiLeaks founder Julian Assange had mixed up Twitter accounts.
Schwerin also posted a similar accusatory tweet on Thursday.
It seems Schwerin has been reading the playbook of Hillary Clinton's press secretary, Brian Fallon.
Fallon had earlier equated RT's journalism as proof that the whistleblowing site is in fact part of a "propaganda arm of the Russian govt" working to interfere in the US elections on behalf of "pet candidate" Donald Trump.
The campaign has stuck with this conspiracy. When RT first broke the news of the latest Podesta email leak before WikiLeaks had tweeted about it on October 13, Fallon claimed this was "proof" of Russian collusion with WikiLeaks "in service of Trump."
Despite RT's attempts to explain - through Twitter and by emailing Fallon directly - that WikiLeaks had published the emails openly on its website, the Clinton campaign chose not to seek clarification. Instead they have opted to spread disinformation about RT, WikiLeaks and Julian Assange, rather than respond to the information contained in the emails.
Ironically, one of their own favored tactics is to accuse Russia and RT of spreading misinformation.
Jennifer Palmieri, Director of Communications for the Clinton campaign, claimed the Podesta emails were the work of "the Russians" in a statement to the Washington Post on Tuesday.
"This is an effort that's led by the Russians," Palmieri said. "Intelligence agencies have confirmed that that is designed to hurt our campaign, so we're not spending a lot of our own internal time doing that."
"I will note that if we needed more evidence that this is an effort that's controlled by the Russians, on more than one occasion Russia Today [RT] has actually posted emails from WikiLeaks even ahead of WikiLeaks. It's pretty clear that they're helping."
READ MORE: It's Russia & RT! Team Clinton knows who's to blame for Podesta leaks
Speaking on October 7, Clinton's senior spokesperson Greg Caplin said, "Earlier today the U.S. government removed any reasonable doubt that the Kremlin has weaponized WikiLeaks to meddle in our election and benefit Donald Trump's candidacy."
"We are not going to confirm the authenticity of stolen documents released by Julian Assange, who has made no secret of his desire to damage Hillary Clinton," he added.
Caplin has been tweeting about an RT-WikiLeaks-Trump conspiracy with gusto.
On October 18, Caplin claimed RT chose not to break the latest leak before WikiLeaks in order to pretend it didn't already have the emails.
During the final presidential debate, a tweet from Caplin somewhat confusingly attacked Trump for condemning Russian hacking but not admitting Russia was behind the hack.
An apparent fan of fact checking, Schwerin used the firm Politifact to back up the discredited claim Clinton made during the final debate that "17 intelligence agencies" say the WikiLeaks leaks come from the Russian government.
Politifact is owned by the Tampa Bay Times, who have endorsed Clinton.
READ MORE: Putin & Russia 'hysteria' help to sell copies of Western media – Spectator editor to RT
Despite Politifact claiming this statement to be true, the content of its fact finding says that this stems from an October 7 statement by Homeland Security Department and Director of National Intelligence saying "the U.S. Intelligence Community (USIC) is confident that the Russian Government directed recent compromises of emails."
The statement was released the same day the first Podesta emails were released, meaning the intelligence community would not have had time to assess the leak. It is also unlikely that 17 separate agencies investigated and concluded there was Russian involvement - particularly as some of the agencies include, "Coast Guard Intelligence, Energy Office of Intelligence, Treasury Department, Drug Enforcement Administration and the National Geospatial Intelligence Agency."
You can share this story on social media: