'In the name of the father': Pakistani pardons himself in daughter's 'honor killing'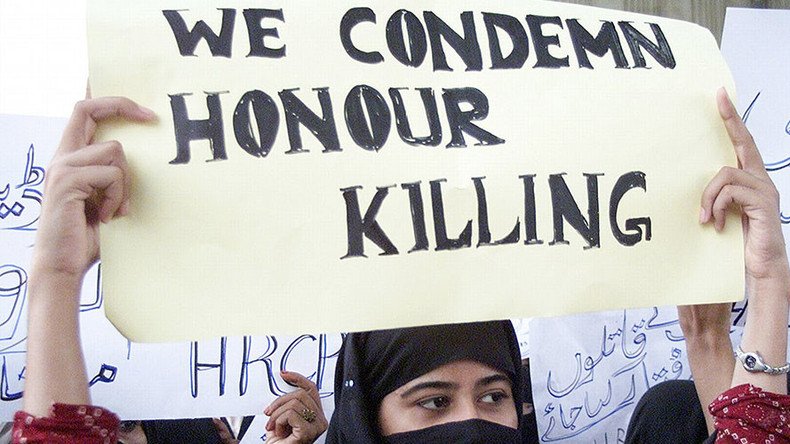 A Pakistani man who killed his daughter and her boyfriend to "save family honor" was acquitted by a court in Lahore after he pardoned himself, his son and nephew for the crime.
Kiran Bibi and her boyfriend Ghulam Abbas were shot dead in 2014 by Faqeer Muhammad. The victim's brother and cousin were also accused of involvement in the two murders.
READ MORE: Pakistani mother tortured & hanged from tree in 'honor killing'
The acquittal comes after laws against "honor killings" were passed in Pakistan recently. Ironically, the legislation was adopted to ensure that those involved in the practice are brought to justice, even if a family member pardons them.
Anti-honour killing bill passed today. Hope it wil help put an end to the most heinous crime Pak is plagued with. PM fulfils another promise

— Maryam Nawaz Sharif (@MaryamNSharif) October 6, 2016
Individuals found guilty of the crime are supposed to face a life sentence in prison, according to the new law. However, the law is considered compoundable in Pakistan if the complainant and perpetrator comes to a compromise. Previously, killers could be pardoned by a victim's family to avoid a jail term. Now forgiveness will only spare them the death penalty.
In this case, because Muhammad and his wife Bushra Bibi were the girl's sole legal heirs, they were able to pardon anyone found guilty of killing her, the Express Tribune reported.
Bushra Bibi and her other son submitted an application to have Muhammad and others pardoned, which was accepted by the court.
"The deceased, Kiran Bibi, was my real daughter. She was unmarried at the time of her murder. There are no other legal heirs of the deceased except her mother, Bushra Bibi, and me," Muhammad said in a court statement.
"I have forgiven the accused persons in the name of Almighty Allah, and have no objection to their acquittal. I also waive my right of Qisas (retribution) and Diyat (blood money)," he added.
READ MORE: 'Honor killing': Relatives murder Pakistani pregnant woman who married for love
After that, the family of Ghulam Abbas also submitted a petition pardoning Muhammad and his accomplices. Despite the prosecution clearly stating they had evidence against the accused, the case was dropped by the judge due to "no chance of conviction."
Commenting on the acquittal, attorney Muhammad Qasim condemned the court's actions.
"It's astonishing that an accused is forgiving himself for murder charges," Qasim told the Express Tribune. "It is nothing but a joke with law."
Other lawyers have pointed out that the new law cannot be applied retroactively, since the murders took place in 2014.
READ MORE: Honor killing loophole 'closed' as Pakistan passes new law
Earlier this year, Pakistani social media personality Qandeel Baloch was strangled by her brother in another so-called honor killing, prompting the government to pass the legislation.
You can share this story on social media: