Pakistani mother tortured & hanged from tree in 'honor killing'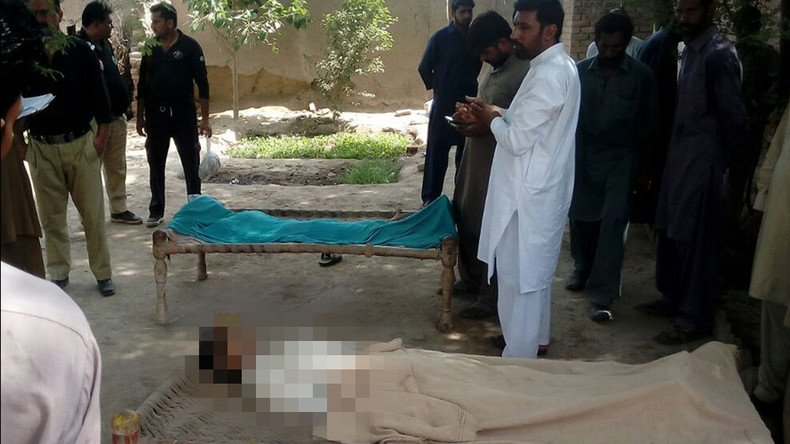 A Pakistani mother-of-three and a 21-year-old man were tortured and hanged from a tree in the eastern Punjab province of Mian Channu after reportedly having an affair.
Khalida Bibi and her alleged boyfriend Mohammad Mukhtar, who was also her cousin, were both killed by the woman's other family members including her brother, father and husband, Dunya News reports.
Mukhtar had come to visit Bibi when her husband became angry and attacked the victims who were then hanged from a tree after they were killed.
The three men were later arrested and confessed to the murders, police official Allah Ditta said.
Ditta also confirmed that the bodies were taken to hospital for an autopsy.
READ MORE: Double honor killing: Pakistani man murders his 2 sisters on eve of weddings
Every year, hundreds of people in Pakistan, mostly women, are killed in the so-called name of 'honor'. In July, the killing of social media celebrity Qandeel Baloch by her younger brother caused global outrage.
READ MORE: Pakistan moves to ban 'honor killings' after murder of social media star
Similarly, Samia Shahid, a British-Pakistani beautician was allegedly strangled and raped while visiting relatives in her ancestral village of Dhok Khinger in northern Punjab.
A British woman who died in Pakistan in a so-called honour killing was raped before her death, the officer in charge of the investigation

— Федосий Мозжоринo (@OCaitlin45085) September 12, 2016
Though her family insisted she died of a heart attack, an autopsy revealed the true extent of her injuries. A 43-page police report obtained by the Daily Mail found that Shahid's ex-husband Muhammad Shakeel killed the 28-year-old while her father held her down.
Shakeel had said the divorce "dishonored him and his family," according to the police report.
You can share this story on social media: