'If I don't shoot, thousands will die!': TV terror drama lets viewers decide fate of fighter pilot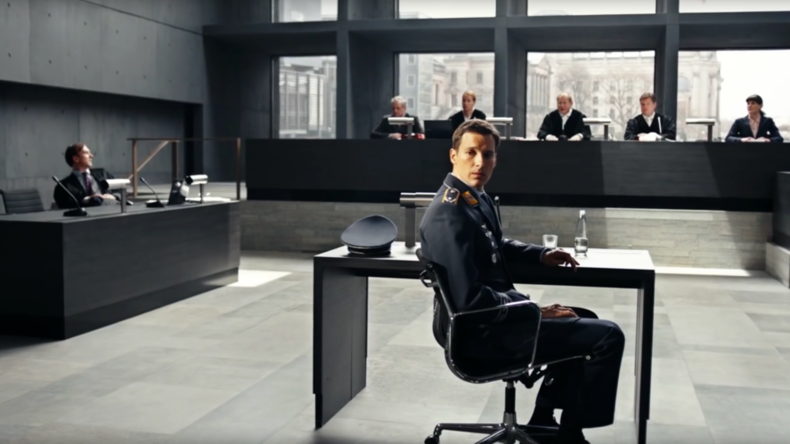 If a pilot shot down an airliner, killing all 164 on board, would you describe them as a hero or a murderer? What if the pilot did this to save the lives of 70,000 oblivious bystanders on the ground below?
This was the moral dilemma posed to viewers across five European countries as part of an interactive TV show on the German network ARD.
Terror - Your Verdict sees a Lufthansa A320 plane hijacked by terrorists who plan to use it as a missile and crash it into Munich's Allianz Arena where a football match between England and Germany is being played in front of 70,000 spectators.
Air Force pilot, Major Lars Koch, then faces a tough decision. Does he fire a missile at the plane, killing all 164 people on board, or let the plane crash into the stadium, potentially letting thousands more die?
"If I don't shoot, tens of thousands will die," Koch shouts as he launches the missile, disregarding orders from his commanders on the ground.
The aircraft, with its engine bursting into flames, goes down and crashes into a field. There are no survivors.
Those in the stadium remain unaware that the large-scale terrorist attack was prevented by the young Air Force pilot. His fate will be decided in a courtroom.
This is where the couch potatoes-turned-jury come in. Viewers across Germany, Austria, Switzerland, the Czech Republic and Slovakia are encouraged to vote guilty or not guilty online or via telephone. Depending on their decision, the jury in the simulated courtroom will voice the appropriate verdict.
Before you find out how viewers voted, tell us what you would decide.
For viewers across Europe, the results were clear.
In Germany, 86.9 percent of viewers voted not guilty, saying that the fighter pilot had made the difficult but right decision. Only 13.1 percent voted guilty and were in favor of Koch being given a prison sentence for murder.
A similar proportion of viewers supported Koch's actions in Austria and Switzerland.
"The viewer is yanked out of the passivity of watching television," Volker Herres, ARD programming chief, told Bild magazine. "He is actively called upon to become both an affected person and take a decision."
READ MORE: Hijack hack: Modern planes vulnerable to remote midair takeover, says US govt watchdog
The show was based on an adaptation of a successful play by bestselling German author Ferdinand von Schirach, and tapped into a heated debate which has raged in the US and worldwide since the 9/11 attacks.
Dick Cheney, former US vice president, previously said the shooting down of hijacked airliners would be justified to prevent greater casualties.
Cheney's views were echoed by Former German Defense Minister Franz-Josef Jung in an ARD TV debate broadcast shortly after the drama concluded. He argued that passengers on the Lufthansa plane were already impossible to save, and that the spectators found themselves in an extrajudicial emergency.
However, Gerhart Baum, the former interior minister, insisted that Koch should have been found guilty of murder as human lives could not be measured against each other given that the fate of the passengers was uncertain.
Following the 9/11 attacks, German MPs passed legislation that addressed similar events in which terrorists used commercial airliners as weapons.
The Air Safety Law, or 'Luftsicherheitsgesetz', passed in 2005, gave the German Air Force authority to shoot down a passenger plane if this is the only way to prevent a terror attack from happening. A year later, however, the law was deemed unconstitutional by Germany's constitutional court.