Thousands without power in Bermuda after Hurricane Nicole (PHOTOS,VIDEOS)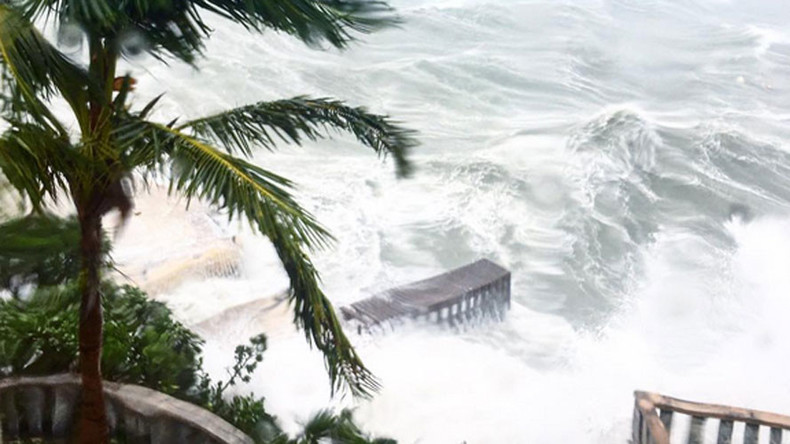 Barely a week after Hurricane Matthew devastated the Caribbean coast, Hurricane Nicole struck Bermuda, battering the island with winds in excess of 120 mph.
The eye of Nicole, classed as a category 3 storm, roared into Bermuda on Thursday. The island was spared the worst of Nicole's eastern semicircle after it weakened from a category 4 classification, but was still powerful enough to rip roofs, snap trees and flood homes.
The International Space Station captured Nicole's scale from 252 miles above ground as it swirled across Bermuda. The storm is the strongest hurricane to strike the island since 2003, according to Weather.com.
While Nicole's impact was "less than feared", reports The Royal Gazette, and didn't result in any related fatalities or major injuries, torrential rain flooded the island with eight-foot storm surges. Over 25,000 of Bermuda's 65,000 residents have been left without power.
READ MORE: 'Disaster capitalism': Why Haitians prefer local NGOs over American Red Cross
Nicole has since weakened to a category 2 status and is expected to lose its tropical characteristics this weekend as it makes its way over the Atlantic Ocean.
Only seven major hurricanes have passed within 40 nautical miles of Bermuda since records began in 1851, according to the National Hurricane Center.
In Haiti last week, at least 1,000 people were killed by Hurricane Matthew, according to the latest tally by Reuters, although the World Health Organization says the death toll is 473, with a further 752 missing. Over 175,000 people remain in shelters and over 1 million Haitians are in need of emergency aid, in part due to a major cholera outbreak.
The United Nations has launched a $120m flash appeal to cover Haiti's needs for the next three months, and UN Secretary-General Ban Ki-moon is due in Haiti Saturday to access relief and cleanup efforts.
In the US, Hurricane Matthew caused historic flooding, killed 38 from Florida to Virginia and forced more than 3 million residents to evacuate.
READ MORE: Drone footage shows total devastation of Hurricane Matthew in N. Carolina (PHOTOS, VIDEOS)