Drone footage shows total devastation of Hurricane Matthew in N. Carolina (PHOTOS, VIDEOS)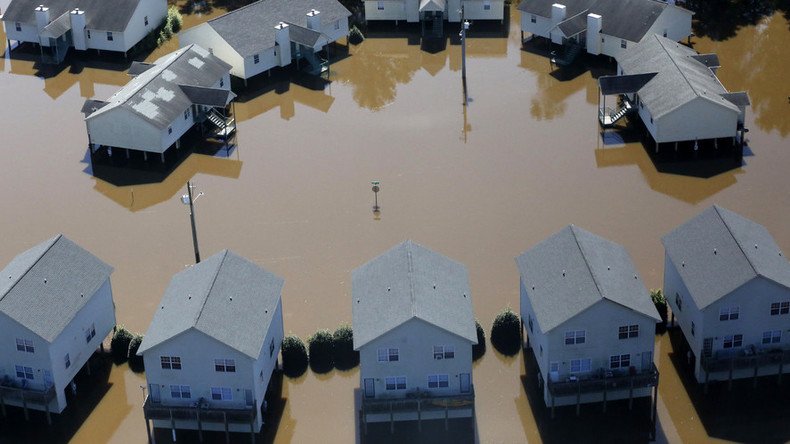 Historic flooding is creating life-threatening conditions in North Carolina, days after Hurricane Matthew inundated the state with more than a foot and a half of rain. Entire towns remain underwater, and swollen rivers still haven't crested.
The death toll in the Tar Heel State has plateaued at 20, while only 46,000 customers remain without power, down from a high of 900,000, Governor Pat McCrory said Thursday. Nearly 3,400 people remain in shelters, though mandatory evacuation orders remain in effect for several parts of the state.
"It's almost like a surreal environment because since Monday we have had Carolina-blue skies," McCrory said. "While we are having beautiful days, people are suffering."
"I have been to those shelters, and it's tough," he said. "How will we get at least temporary housing for thousands of people? There is no easy solution."
Despite the sunshine, dangers from the flooding remain.
The priority right now is Robeson County, where many houses remain underwater and people are "hurting" but "resilient, caring, risking their lives to save people," McCrory said. The governor toured the county on Wednesday, ABC News reported.
Two interstates remained closed ‒ I-95 between Lumberton and Fayetteville and I-40 near Newton Grove ‒ while US Route 70 is closed in Kinston.
"Stay away from the water," McCrory urged. "I cannot emphasize [that enough]. Whether you are walking or driving in a car, do not get near the water. It will kill you."
In Robeson's county seat of Lumberton, about an hour inland from coastal Wilmington and half an hour south of Fayetteville, the Lumber River crested four feet higher than its previous record on Tuesday, sending about 1,200 residents fleeing by boat and helicopter. The city of 22,000 people was one of the hardest hit by Matthew.
"It is just a heartbreak," novelist Jill McCorkle, a Lumberton native, told ABC News. "It's a very poor area anyway."
The city was ill-equipped to handle the heavy rains that the hurricane wrought ‒ more than a foot in 24 hours ‒ on top of the heavy rains Lumberton experienced the previous week.
"There's the constant trade-off of the river giving and taking away," McCorkle said. "It's a really beautiful, beautiful river" ‒ until it floods over its banks and "goes out of control."
It's not just the flooding that's creating danger in Lumberton, though. The water brought alligators and snakes swimming through the water-filled streets.
"I was hoping the alligators wouldn't come into the door," Joni Gaddy told CNN. "You can literally sit on the porch and look at the alligators in the water with the snakes."
She was stranded in her house for three days with her two dogs ‒ one of whom is still there ‒ before she was rescued by her son and nephew, rather than by emergency responders.
They "saved me ‒ walking through the water, climbing through trees, because there were trees down," she said. She doesn't know where her horses are. "The water is up to your neck coming out of the house. The house is destroyed."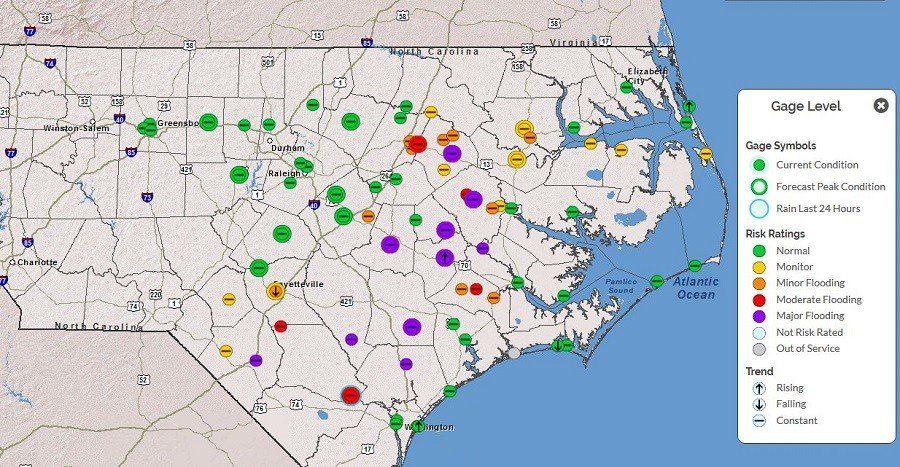 Flooding is expected to peak before the weekend in five counties: Edgecombe, Pitt, Bladen, Wayne and Lenoir. The Tar River is currently cresting, while others are starting to recede. In several places, the Neuse River crested earlier than Emergency Management expect. It has exceeded previous historic flooding ‒ and it's still rising.
"This was a huge event," National Weather Service hydrologist Todd Hamill told USA Today about the storm and its collateral damage. "This isn't just going to go away this weekend. There is a lot of water out there, and it will take time for communities to recover."
Mandatory evacuations remain in place along the Neuse River in Kinston and Lenoir County, as well as in the area around the Woodlake Dam in Moore County.
"We want you to evacuate these low-lying areas absolutely and immediately," Kinston Mayor BJ Murphy told WITN-TV. "The time to get out is now."
Hurricane Matthew killed has 38 people across the southeast, from Florida to Virginia, while more than 3 million residents evacuated from coastal areas. Emergency personnel conducted more than 2,000 rescues across North Carolina, including 80 airlifts.
You can share this story on social media: