'Maggot-infested' KFC blamed by mother for hospitalization of 5yo (VIDEO)
Published time: 11 Oct, 2016 14:36
Edited time: 12 Oct, 2016 10:00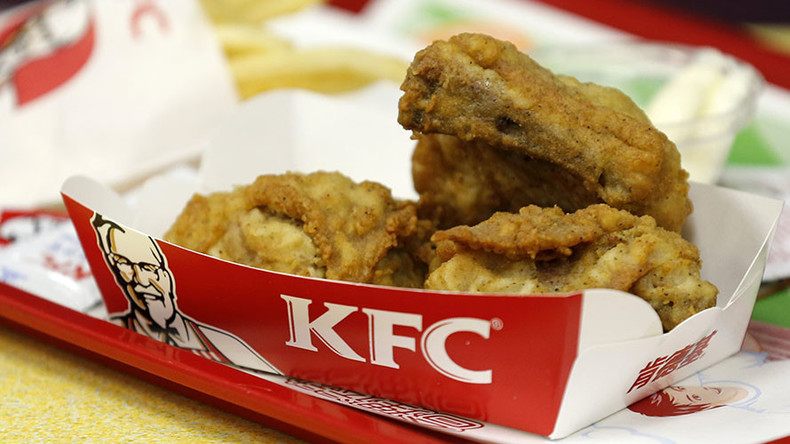 An Arkansas mother has claimed Kentucky Fried maggots were on the menu at KFC, landing her five-year-old son in hospital with food poisoning. Video, allegedly of the meal, showed chicken crawling with the larvae. Viewers haven't been convinced, however.
If the allegations are true it's fair to assume Colonel Sanders would not have been proud of the restaurant in West Helena. His beloved chicken can be seen half-eaten and covered in maggots in the sickening video.
The child's mother told police her son became ill after eating the food. He was taken to the emergency room where he began gagging and throwing up. According to KLRT, she contacted the KFC store manager but has not received a response.
The video, which does not show anything that could identify the whereabouts of the KFC, was reportedly given to police by the mother. West Helena PD then shared the video on Facebook, insisting it's not a criminal matter but that the public should be aware. The video has since been removed from their page.
A number of people discussing the video on the police department's Facebook page have backed KFC on the matter, casting doubts around how maggots could be found in the chicken. One commenter notes that the video "doesn't compute... there's no way any kind of insect larvae could have survived the deep frying process," while another says that "something didn't set right."
Another Facebook user, Robert Wright, says he thinks "the woman had it in her house unrefrigerated for a week and her kid got in it."
"That's what I think and looking for a pay day," writes Leslie Galloway.
KFC itself issued a statement expressing major doubts about the veracity of the mother's allegations.
The relevant health department "conducted thorough investigations at the restaurant and found no evidence of temperature issues, pest issues, spoiled food, or any other issues of concern," KFC said.
"Our chicken is inspected and hand-breaded in our kitchens by expertly trained cooks before being cooked to a temperature of 165F or higher," the franchise explained. "These strict procedures we have in place make it extremely unlikely that this happened while the food was still inside our restaurant."