Laying the golden eggs: Canadian Mint employee accused of hiding $135k worth of gold…up his bum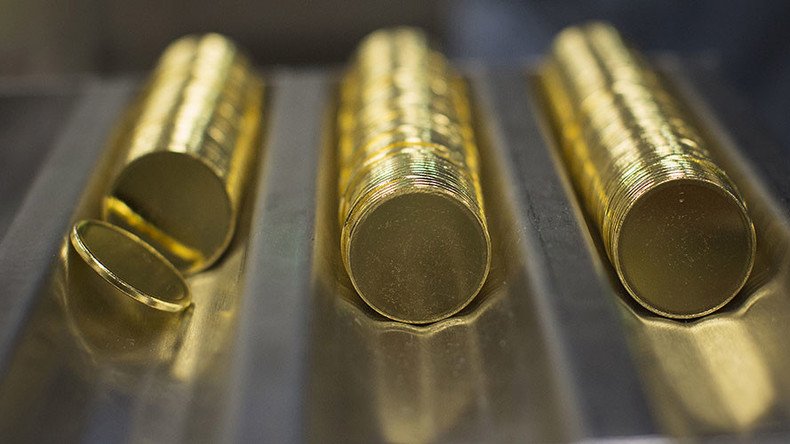 In a heist fit for a Hollywood film, a Royal Canadian Mint employee allegedly smuggled the equivalent of US$135,000 in gold by stashing it up his anal cavity. But the man's lucrative scheme eventually came unstuck, leaving him facing multiple criminal charges.
Leston Lawrence, 35, is charged with a number of smuggling-for-cash charges, including theft, laundering the proceeds of crime, possession of stolen property, and breach of trust, the Ottawa Citizen reported.
Those charges stem from an alleged scheme which reportedly saw Lawrence take small circular nuggets of gold, referred to as "pucks," from the Royal Canadian Mint. From there, he would take the pucks – which weighed around 210 grams each – to Ottawa Gold Buyers, a business located in a nearby mall. He made a total of just under 180,000 Canadian dollars (US$136,617) before being caught.
Ottawa Gold Buyers would take Lawrence's gold, paying him around C$6,800 (US$5,161) for each puck, depending on fluctuating gold prices.
After cashing out, Lawrence – who has since been terminated from his position at the Mint – would deposit his checks at a bank located in the same mall.
For a while, his plan went ahead seamlessly. Secreting the gold pucks up his ass, he managed to sell 18 of them in just three and a half months, pocketing an estimated C$179,015 (US$135,869) between November 27, 2014 and March 12, 2015. The Royal Canadian Mint reportedly didn't even notice the gold was missing.
But unfortunately for Lawrence, the gold scheme was rumbled – by an observant bank teller who was particularly alert to his financial dealings.
When the teller became suspicious about the size and number of Ottawa Gold Buyers checks being deposited in his bank account, along with Lawrence's request to wire money out of the country, she examined his account further. She then noticed he worked at the Mint, and her suspicion intensified.
The teller alerted bank security, and soon the police were involved. Authorities launched an investigation, and a search warrant was eventually obtained. A search of Lawrence's safety deposit box found four Mint-style pucks.
But the court was unable to definitively prove that the gold came from the Mint, as it had no markings, and no gold had been reported missing.
However, the prosecution was able to show that the pucks perfectly fit the Mint's custom "dipping spoon," which is used to scoop molten gold during the production process. The "dipping spoon" is not available commercially, thus pointing to a strong possibility that the gold was indeed taken from the Mint.
But defense attorney Gary Barnes said there are a number of ways the gold could have been obtained. For instance, Lawrence could have simply bought the coins outright. Barnes went on to stress that Lawrence made no attempts to deceive the bank or the gold buyers.
"In fact, I would submit the Mint doesn't even know if anything is missing," Barnes said.
The defense attorney went on to call the prosecution's case "appalling," citing an unconvincing collection of circumstantial evidence.
"This is the Royal Canadian Mint, your Honor, and one would think they should have the highest security measures imaginable," defense lawyer Gary Barnes said in his closing submission.
Indeed, the question of how almost C$180,000 in gold could have been smuggled out of a government facility does remain.
The court was told that Lawrence set off the metal detector more than other employees. Each time that happened, he was given a manual search with a hand-held wand. He passed that search every time.
The key to Lawrence's tactic may lie in the discovery of a container of vaseline found in his locker, with the prosecution suggesting that the puck could have been concealed in Lawrence's anal cavity and not be detected by the wand.
"We do have compelling evidence" of someone "secreting [gold] on his person and taking it out of the Mint," Crown attorney David Friesen said.
Lawrence's fate will remain unknown for another two and a half weeks, as Justice Peter Doody has reserved decision until November 9.
Meanwhile, a Mint spokeswoman told the Ottawa Citizen that several security measures have been upgraded at the facility, including high definition security cameras in all areas, improved ability to track, balance, and reconcile precious metal, and the use of "trend analysis technology."
You can share this story on social media: