Missouri Democrat assembles rifle blindfolded... to prove he's qualified for Senate (VIDEO)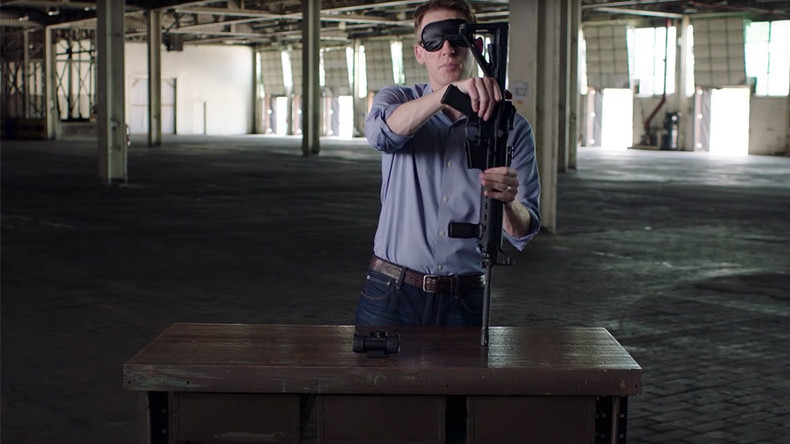 Whether being able to assemble a rifle in 30 seconds while blindfolded is something a voter wants in their senator, Missouri Democrat Jason Kander obviously thinks it's a vital string to his bow.
Kander, Missouri's current secretary of state, is running against incumbent Missouri Senator Roy Blunt (R) and has taken the novel approach to hit back at accusations that he's anti-gun rights.
Adding a new twist to the usual campaign advert involving guns, Kander is seen assembling an AR-15 rifle while blindfolded.
In the 32-second video, entitled Background Checks, Kander assembles a rifle which is laid out on the table in front of him, while talking about his opponent.
"Senator Blunt has been attacking me on guns. Well, in the Army, I learned how to use and respect my rifle. In Afghanistan, I volunteered to be an extra gun in a convoy of unarmored SUVs," says Kander.
Kander adds that he has previously "supported Second Amendment rights" but "also believe[s] in background checks, so the terrorists can't get their hands on one of these."
Once assembled, Kander removes his blindfold and says: "I approve this message, because I would like to see Senator Blunt do this."
Oh Dear God, the Jason Kander ad with him putting together a rifle blindfolded, as if THAT is qualifying. I hate you Gun People.

— Mouse in catspeak (@Meouse) September 15, 2016
Kander commissioned the advert after the National Rifle Association released an ad earlier this month which said Kander was opposed to Second Amendment rights.
The NRA are referencing a 2009 Missouri House vote in which Kander voted against a proposal which would have allowed concealed guns to be carried on college campuses across the state. Although the bill passed, it never made it to the floor of the Senate, according to the St Louis Post Dispatch.
Since Kander released the advert on Thursday, the NRA tweeted in response to the advert, stating that he "isn't the first anti-gun politician who thinks he can fool voters into thinking he supports the #2A [Second Amendment]"
Kander isn't the first politician in Missouri to use guns to persuade voters in 2016.
In a 30-second spot called Big Guns for Republican gubernatorial nominee Eric Greitens, he's seen firing numerous rounds on a machine gun.
"When he fights back, he brings out the big guns," the ad proclaims.