Spine-chilling shark attack captured on swimmer's underwater camera (VIDEO)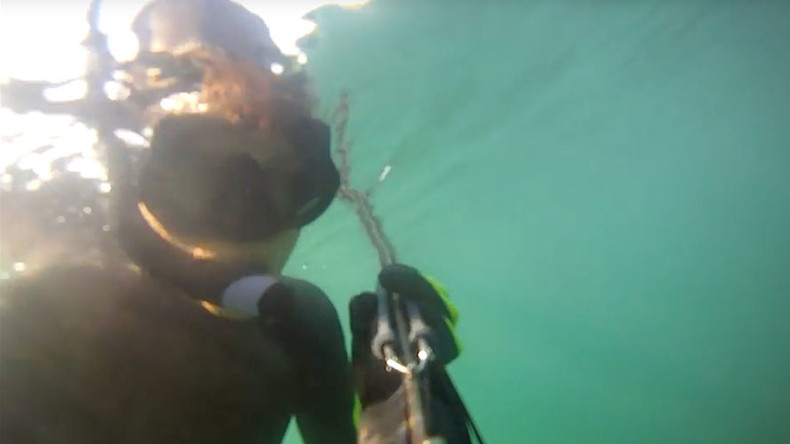 A college student spearfishing off the coast of Santa Barbara, California was lucky to survive a face-to-face encounter with the ocean's deadliest predator, a great white shark.
Tyler McQuillen said he initially thought one of his friends was playing a joke on him by grabbing his flipper but he quickly realised that a shark had bitten his foot.
A camera fitted to the spear gun captured his incredibly close call. The 22 year old dropped the weapon when the shock of the attack dawned on him, and he later said he thought he was going to die.
However, he managed to retrieve the spear gun just in time to fend off the giant predator.
When the great white circled back for another charge, McQuillen "gave him a nice little jab" with his spear and the shark swam away, he explained to San Diego's CBS 8.
The student was able to swim safely to shore and alert his friends to the danger lurking in the shallow water.
"Extremely lucky to get out of this one alive," he said on a Youtube video that has since been deleted.
"Got a laceration on my right foot in the initial hit, I didn't realise the shark had bit me. The shark bite broke two of my toes."
McQuillen's experience off the coast of California is reminiscent of a jaw dropping encounter in July 2015 when professional surfer Mick Fanning fought off a shark on live TV during a competition in South Africa.
READ MORE: Jaw-dropping: World champion surfer battles shark on live TV in S. African competition
The three-time world champion was knocked off his board by the large tiger shark but miraculously managed to punch it in the back and swim away.
Speaking afterwards Fanning said, "I was waiting for the teeth to come at me as I was swimming."