Jaw-dropping: World champion surfer battles shark on live TV in S. African competition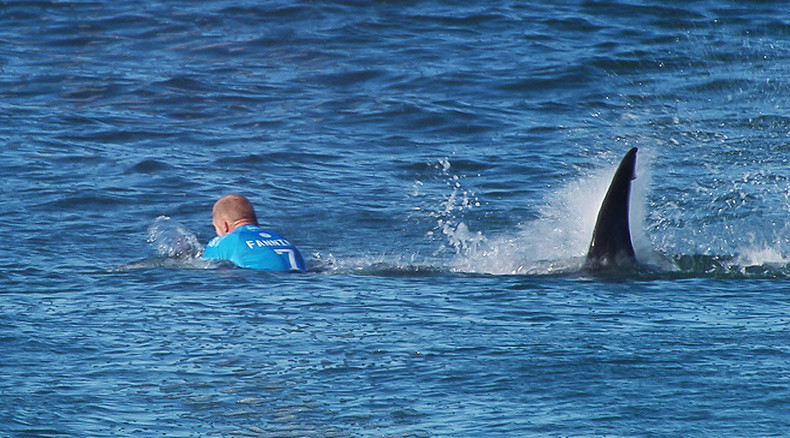 Australian professional surfer and triple world champion Mick Fanning was attacked by a shark during a competition in South Africa on Sunday. The dangerous incursion, said to be "the first in professional surfing history," was broadcast live on TV.
The shark – described as a "big tiger shark" by the event's live commentators, approached Fanning from behind as he was sitting on his board in the waters of Jeffreys Bay (also known as J-Bay) getting ready to compete.
In the broadcast, the shark could be seen launching itself at the surfer, known by the nickname "White Lightning," who then disappeared from his board. After that, only huge splashes of water were visible to viewers. Assisting jet skis rushed to the spot where the struggle was taking place.
"There were two sharks apparently... the horn blasted," World Surf League (WSL) Deputy Commissioner Renato Hickel said, adding that "this is the first time in professional surfing history, no one has experienced a situation like that."
"That's one of the dangers of professional surfing," the event's commentators could be heard saying, adding that they were happy to see the champion come out of the ordeal "in one piece."
Describing the attack afterwards, Fanning – who luckily escaped without injury - said the shark "punched me in the back."
"I was just about to start moving and then I felt something grab [and] get stuck in my leg rope. And I instantly just jumped away and it just kept coming at my board. I started kicking and screaming," he said on board the safety boat, adding that he "didn't see the teeth," but had seen the shark's fin.
"I was waiting for the teeth to come at me as I was swimming," he said. The three-time world champion later admitted that he would be "happy to not even compete ever again."

Another Australian surfer, Julian Wilson, who was competing against Fanning in the world title battle, immediately paddled to his opponent's aid on seeing the attack.
"It [the shark] came up and he was wrestling it, and I saw he got knocked off his board," Wilson said, adding that he was desperate to do what he could to safe his fellow surfer. "I was like – I've got a board, if I can get there I can stab it or whatever, I've got a weapon," he emotionally recounted after both surfers were safe on the beach.

The unprecedented attack happened during the final of the Association of Surfing Professionals' J-Bay Open event in the Eastern Cape province of South Africa. Sunday was the final day of the competition, in which 36 surfers took part. Fanning's struggle to survive the "terrifying situation" was called "nothing short of heroic" by WSL. The organizers decided to call off the final, with the surfers to split the prizemoney.