Zimbabwe's Mugabe ridiculed online after unveiling 'Superman' statue of himself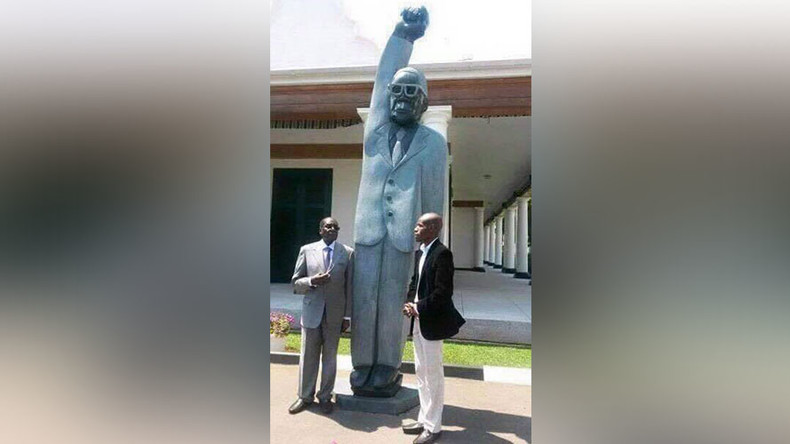 Zimbabwean president Robert Mugabe has once again been mocked on social media after a photo of the leader beside a giant cartoonish statue of himself went viral.
The 92 year-old, who has been the country's president for almost 30 years, unveiled his own likeness at State House in Harare last week, according to New Zimbabwe.
READ MORE: Mugabe defies 'death prophets' by living into 2016
The 3.8 meter tall sculpture shows the leader in a 'superman' pose with one arm raised towards the sky as though preparing to take flight.
"To see oneself reproduced this way, it's something that should be more appreciated than just by saying 'thank you',"Mugabe said at the unveiling. "I will say in an African way and in our own way, personally, thank you in a deeper way because it has gone deep in my heart."
Despite Mugabe's love for the art piece, it's resemblance to a cartoonish creation has been widely ridiculed online.
Dominic Benhura, the local artist responsible for the giant replica, and Mugabe's wife Grace are also pictured in the now viral photo.
Benhura, who has exhibited in galleries all over the world, has responded to criticism saying the statue represents his 'signature style' and there is no way he would have missed the opportunity to show the president his work. He said it took him six months to complete the Mugabe masterpiece.
The sculpture was commissioned by the president's office and donated as 'charity', according to Mugabe.
Zimbabwe is currently in the midst of its worst economic crisis in several years with rising unemployment and increased political tension, prompting violent strikes and protests.
READ MORE: Ugandan president becomes online sensation after roadside call goes viral (PHOTOS)
In July, Mugabe claimed that delays in paying public wages were insufficient grounds for strike action undertaken by public sector workers. He also hinted at a ban on social media sites like Facebook and Twitter that are seen as tools in organizing strikes.
Finance Minister Patrick Chinamasa recently completed a European tour seeking an IMF bailout, which had little success. Meanwhile the government has announced plans to cut 25,000 public sector jobs.