Mugabe defies 'death prophets' by living into 2016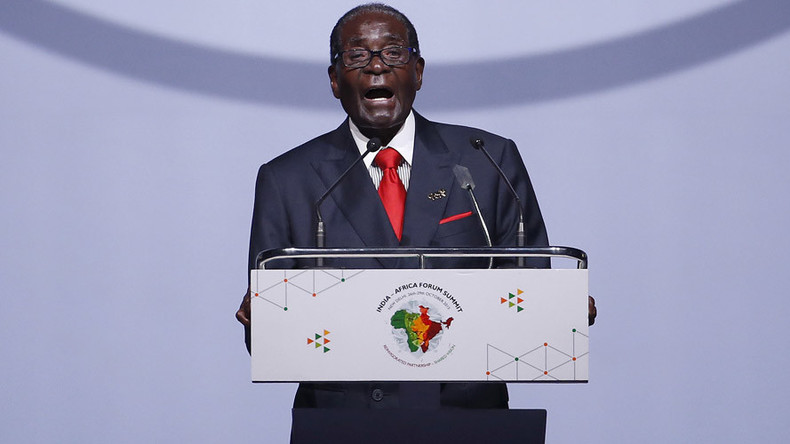 Zimbabwe president Robert Mugabe has defied "death prophecies", which had predicted he would not survive 2015.
The first such claim came in January when Austin Liabunya, founder and president of BSI Winning Life Ministries in Malawi and self proclaimed "healing minister", claimed "Mugabe's biological clock will not tick beyond this year," Harare 24 reported on January 3, 2015.
With the 91-year-old's supposed passing, the controversial "prophet" also claimed in his New Year's Day ceremony in Lilongwe that Zimbabwe would be "restored" and would find itself "in the top five of the richest countries in Africa."
One month later and another Malawian prophet also claimed 2015 would be Mugabe's last. Kenneth Eagle of the Holy Tabernacle Ministries, also based in Lilongwe, said he had visions of Zimbabwe in a state of mourning following the president's death.
"(Zimbabwe) is not far before the flag is pulled down for some days… as a symbol of honor to their beloved leader," Eagle said in February.

Shame in Liabunya for his inaccurate prophecy about the death of Mugabe before 2016!

— Bibu Yusufu Mdala (@bibumdala) January 1, 2016
Mugabe will "go straight to Hell if he will not confess Jesus as his personal savior," Eagle added, according to AllAfrica.com at the time.
Like Liabunya the month before, Eagle said Mugabe's death would bring "a better nation with much of economy fruitfulness."
Malawi Prophet Austin Liabunya "#RobertMugabe death on Dec31st 2015 prophecy" in doubt as Mugabe lives on in 2016

— tony kent kyazze (@tonykkent) January 1, 2016
In a backtracking on his failed prophecy, Liabunya has laid the blame at humankind's understanding of time.
In a statement published by Malawian Watchdog, Liabunya said that if people claim he's wrong as 2016 is underway, his prophecy is based on "the timing of God" and not within the accepted time spectrum.
"If you have problems with time it's because you can't see spiritually according to the timing of God," the statement reads.
Zimbabweans and those who seek its rich mineral wealth are preparing for Mugabe's death - and the possible opening of markets it would create.
The southern African nation has the world's third-largest platinum supply, 20 billion tons of coal, and more than 60 other minerals like gold and silver.
You can share this story on social media: