Russian blogger arrested for 2 months for playing Pokémon Go in church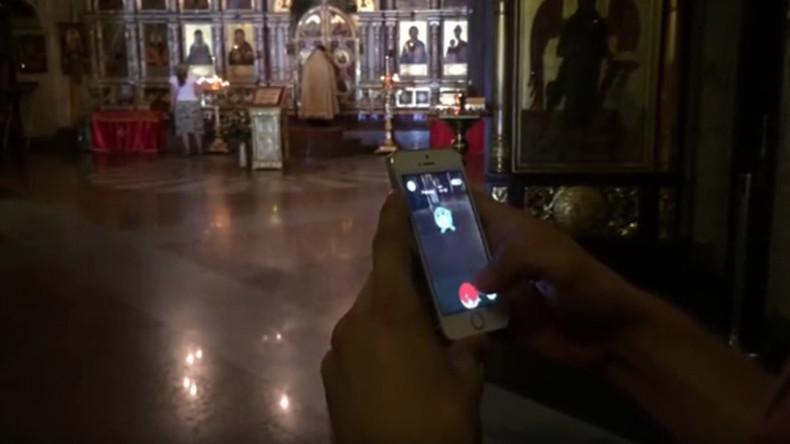 A 21-year-old blogger from the city of Yekaterinburg in Russia's Urals has been arrested for two months, after he posted a video on YouTube showing him playing the popular augmented reality game in an Orthodox church.
Although hunting for the fictional creatures has been quite "successful" in regard to the number of Pokémon the blogger acquired (that's according to his own comments), he now faces a less pleasant reality.
Ruslan Sokolovsky was convicted of insulting the feelings of worshippers and inciting hatred by the local authorities, and was placed under arrest for two months, law enforcement officials announced on Saturday.
In August the blogger disregarded Pokémon Go's warnings to "not trespass while playing," and headed into the city's famous cathedral, the Church of All Saints, which was built on the site of Ipatiev House – the place in which the last Tsar of Russia and his family, the Romanovs, were murdered in the early 20th century.
READ MORE: Respect the dead, Pokémon: Hiroshima memorial site 'no go' area for popular game
Earlier, Russian media reported that using smartphones in churches to catch Pokémon will be punished under criminal law, as the act reportedly violates the freedom to worship and might result in a fine of up to 500,000 rubles ($7,700) or up to three years behind bars.
"Who can be offended by you walking with your smartphone at a church?.. I find it strange, so I decided to catch some Pokémon in the cathedral ... because why not," Sokolovsky said in his video, which has since accumulated over 550,000 views on YouTube.
"I think it's both safe and not prohibited by law," he added.
The young man is then seen throwing Pokéballs at a Poliwag Pokémon inside the church, while a priest can be heard reading a prayer close to him. The blogger also added music from the Pokémon soundtrack, as well as a comment to his clip which contained a swear word.
He also said that apparently he had not been the first one to play the game in the church, as he could trace the presence of other players inside the cathedral.
READ MORE: Pokémon Go away: Homeowners sue over Pokestop on their property
"I liked it, no one disturbed me," Sokolovsky said in the end of his video, before equating Jesus with augmented reality characters and questioning his existence.
Yet, the local church head has promised to bail out the blogger, according to Yekaterinburg's mayor Evgeny Roizman. The city head took to Facebook on Saturday, praising the metropolitan's efforts in standing up for the blogger.
You can share this story on social media: