Faked Everest photo earns 2 Indian cops 10-year climbing ban in Nepal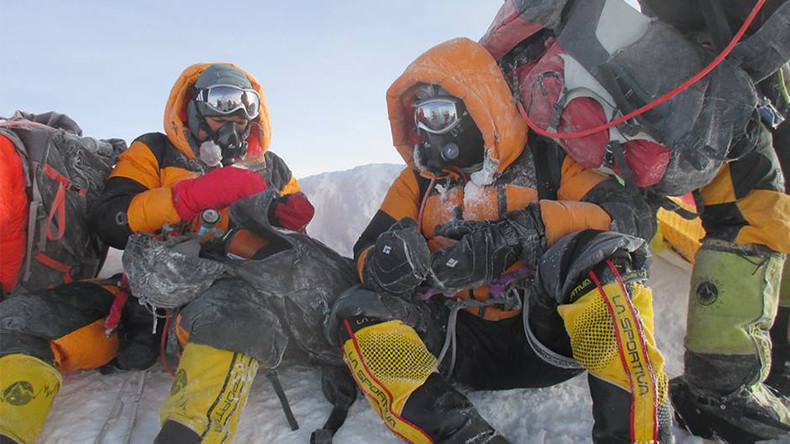 An Indian couple who are both police officers will have to wait 10 years to redeem themselves, after a fake photo they took at the 'top' of Mount Everest earned them a climbing ban by authorities in Nepal.
Dinesh and Tarakeshwari Rathod claimed they were India's first couple to scale the world's tallest mountain, and released a number of photos showing their ascent, which they said took place on May 23.
Nepal's tourism department certified their claim, but speculation was rife that the couple had faked the pictures.
A number of professional climbers found issues with the photos, including one showing the couple wearing red climbing gear while in another, their clothing was completely different.
READ MORE: 'First' Indian couple to climb Mt Everest accused of faking photos
It quickly transpired that the Rathods had photoshopped pictures of a Bangalore mountaineer who had climbed the 8,848 meter (29,000 feet) mountain on May 21.
An investigation was launched by tourism officials in Nepal and they found these accusations to be true, prompting the decade-long ban.
"Our investigation shows that the couple faked their summit. We have imposed a 10-year ban against them from climbing any mountain in Nepal," said the tourism department's Sudarshan Prasad Dhakal.
"Despite several attempts to get clarifications from them, they did not cooperate with us during the investigation," Dhakal told AFP. "The ban should serve as a warning for mountaineers to follow ethics."
The Rathods' colleagues in the city of Pune in western India said they found the couple's lies "shocking."
"The couple have tarnished the image not only of the police force, but of the whole country," said Pune police commissioner Rashmi Shukla.
Her department launched its own inquiry into the couple's antics, but Shukla told the Indian Express that "the two have disappeared without a trace."