Robot uses artist's body as paintbrush to create abstract art (VIDEO)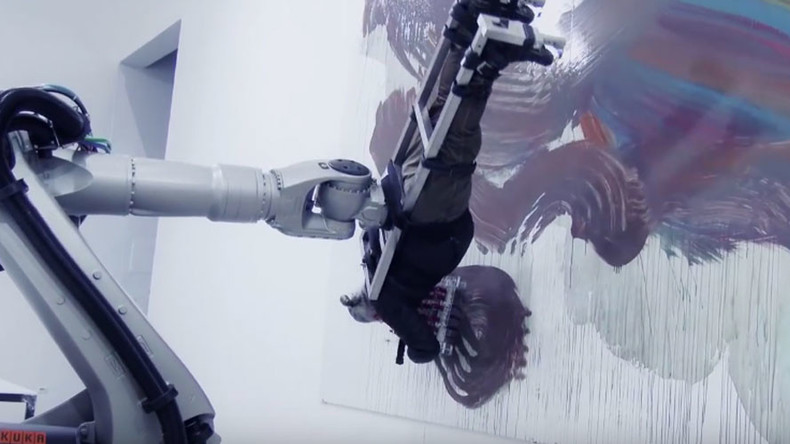 A Serbian artist has turned art on its head by allowing a semi-autonomous cyborg to wield his body like a paintbrush.
The concept of art is many things to many people, but to Dragan Ilic it appears to mean strapping yourself to a robotic arm while it whirls you around a giant canvas.
Where once you might have expected artists to utilize technology to create their next masterpiece, Ilic is letting technology use him as part of a project called DI-2K4.
For his 'human paintbrush' works, Ilic has acquired an industrial robot normally manned by skilled operators in manufacturing plants. The Serbian previously programed a similar machine to produce hypnotic and somewhat Freudian inkblot-like stencils.
However, according to the artist's Youtube channel, "the circumstances are changed now in the sense that Ilic is no longer the one who is controlling or manipulating the machine, rather it is his very own body that he now places at the disposal of a programmed machine, practically merging with it."
According to Ilic's online video workspace, the novel project focuses on where "human and machine activity intersects." While the resulting artwork may not be to everyone's taste, there's no denying that the creative process is a sight to behold.
Video of the man-machine collaboration shows Ilic being twirled around a wall-mounted canvas at speed, strapped to what looks to be a gurney.
As he holds onto 30 brushes dipped in colourful paint, the robot is in control as it ultimately determines in which direction the artist moves.