NASA rover captures stunning panorama of Earth-like Mars surface (360 PHOTO)
Published time: 19 Aug, 2016 21:53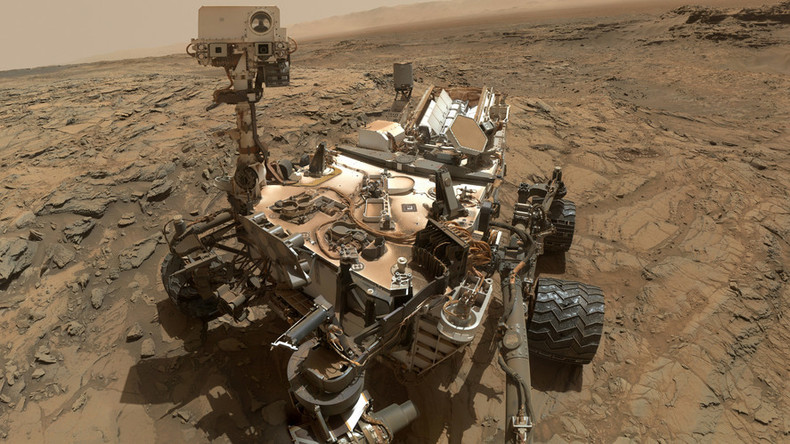 The latest images from the Curiosity Rover give a glimpse into the Earth-like ground of the Red Planet in a stunning 360 degree panorama, described by NASA as "reminiscent of the US Southwest shape part of the horizon."
The picture shot by "Curiosity" was made public by the US National Aeronautics and Space Administration (NASA) on its website on Friday.
"The rover used its Mast Camera (Mastcam) to capture dozens of component images of this scene on Aug. 5, 2016, four years after Curiosity's landing inside Gale Crater," the statement on NASA's page reads.
The stunning 360 panorama allows everybody to move the picture in every direction taking a look at images which NASA terms "reminiscent of the US Southwest shape part of the horizon."
The visual effect was composed out of 130 individual shots and displays the so-called Murray Buttes, a peak formation on Mount Sharp, in the Gale Crater.
The peak got its name from a planetary scientist Bruce Murray, who was the chief of NASA's Jet Propulsion Laboratory that is in charge of the rover's mission on Mars.
While Curiosity already accomplished its main goal, examining an "ancient habitable environment", it's now on its extended mission on the Red Planet to monitor current developments. According to NASA it should check whether how and why Mars turned into an area "less suited to supporting life", if indeed it hosted any life before.
Curiosity rover has been on its mission on Mars since landing in the Gale Crater on August 6, 2012. In December 2012 its mission was then extended indefinitely.
In June this year it was revealed that high levels of manganese oxides, discovered by the rover earlier, may indicate that oxygen was once abundant there. With last year's discovery that the red planet may have been home to ancient lakes, it now seems more akin to our blue one.
"The only ways on Earth that we know how to make these manganese materials involve atmospheric oxygen or microbes," said Nina Lanza, a planetary scientist at Los Alamos National Laboratory in New Mexico, while commenting on the potentially groundbreaking discovery.