Praying protester knocks out passerby during 'peaceful' church demonstration (VIDEO)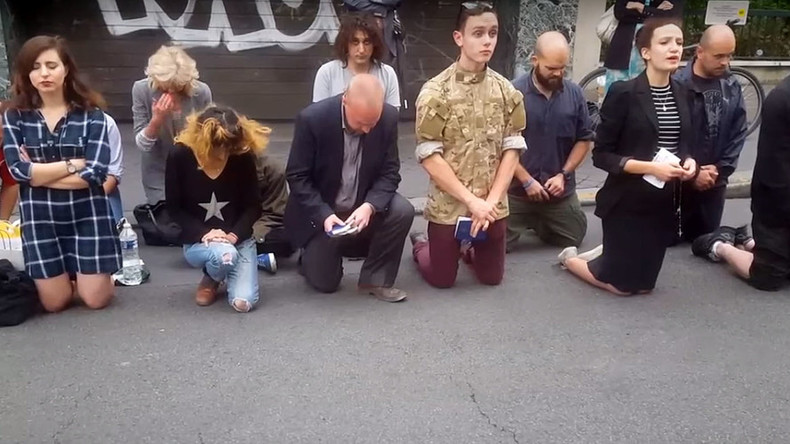 A group of Catholic fundamentalists recently gathered outside St. Rita's Church in Paris, France, to protest the church's longstanding closure. However, attendees weren't quite the bastion of holiness themselves: One delivered a knockout punch to a bystander.
Footage of the incredible incident was posted online Friday.
According to the video's description – apparently posted by a man sympathetic to the protesters' cause – the passerby had allegedly been disrupting the group by "playing loud music with his mobile phone" and was subsequently "chastised for his rudeness" by a "soldier of Christ".
However, it is not clear from the footage what prompted the protester to jump up and deliver the sickening blow.
Street prayers have been outlawed in France since October 2011, and St. Rita's has been closed for more than a year in the run up to its planned October demolition.
There have been no reports of any arrests following the protest captured in the video, or if the victim was seriously injured in the sudden KO attack.
The church was sold by the Association of Catholic and Apostolic Chapels to a real estate developer years ago for €3 million ($3.4mn) and is due to be replaced with an apartment building.
However, the recent burial of 85-year-old Father Jacques Hamel, killed by two jihadists in the Saint-Etienne-du-Rouvray church attack on July 26, has inspired a number of demonstrations to highlight the presence of, and support for, Christianity in France.
Ces images de #SainteRita sont choquantes. Un prêtre et un enfant de choeur présentent-ils une menace ? pic.twitter.com/7NzaJiHVaS

— Valérie Boyer ن (@valerieboyer13) August 3, 2016
Translation: These #SainteRita images are shocking. Are a priest and an altar boy a threat?
Police intervened in a sit-in protest held at St. Rita's after Father Hamel's burial on August 2nd.
READ MORE: Mockery on Twitter over French official's 'Muslims should be discreet' comments

Images of a priest, an altar boy, politicians and worshipers being forcefully removed from the location were quickly shared online, including by far-right leader Marie Le Pen.
Police said about 30 protesters were removed from the scene "without incident".
Translation: Total @Philippe_Goujon and support elected to #Paris15 who defend the Church #SainteRita