Can't unsee: Nude statues of Trump pop up in 5 US cities (NSFW IMAGES, VIDEOS)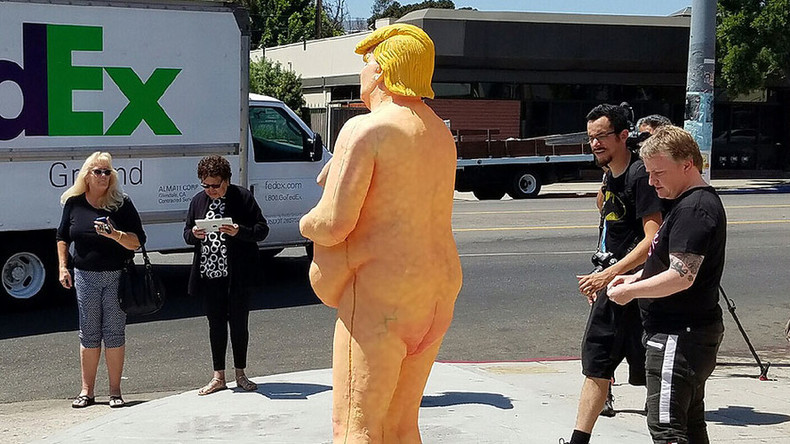 Life-size statues of a naked Donald Trump, mocking the Republican presidential candidate, have popped up in New York, Los Angeles, San Francisco, Cleveland and Seattle.
Numerous photos and videos of the lifesize creation – which doesn't include a fig leaf – were uploaded to social media on Friday, showing people hugging and kissing the statues, among other things.
The images are a little NSFW. You have been warned.
In addition to New York's Union Square, another statue was placed on the corner of Hollywood Boulevard in Los Angeles, California. Three more statues were put up in San Francisco, Seattle, and Cleveland, where the Republicans held their convention in July, officially confirming Trump as their nominee in the November presidential election.
The full frontal nudes carry a small engraved plate at its base with the title "The Emperor Has No B*lls" and are signed "Ginger."
That is the professional name of a Las Vegas-based artist with an expertise in creating monsters for haunted houses and horror movies, the Washington Post reported Thursday. He was commissioned in April to create the statues by Indecline, an anarchist street art collective.
READ MORE: Racy Hillary Clinton mural causes stir, Instagram bans artist (PHOTOS)
"When the guys approached me, it was all because of my monster-making abilities," Ginger told the Post. "Trump is just yet another monster, so it was absolutely in my wheelhouse to be able to create these monstrosities."
For those interested in seeing what went into the making of the statues, there's even a video of the process from the group themselves.
Authorities removed the statue placed at Union Square by early afternoon on Thursday, according to social media.
First, they tore it down.
Then it was dumped in a pick-up.
New York City Parks Department spokesman Sam Biederman told Gothamist in a statement "NYC Parks stands firmly against any unpermitted erection in city parks, no matter how small."