Racy Hillary Clinton mural causes stir, Instagram bans artist (PHOTOS)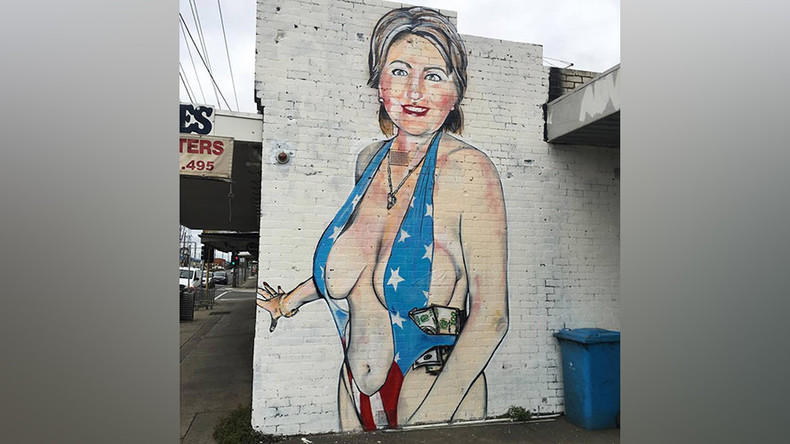 Social network Instagram has been accused of "bias" and "censorship" after the artist behind a provocative Hillary Clinton mural in Melbourne, Australia had his account deleted from the site.
Created by a street artist known as 'Lushsux,' the mural shows a scantily clad Clinton complete with a star spangled swimsuit and some dollar bills tucked.
Photos of the one and a half story mural, which can be found on the wall of a business in the Melbourne suburb of Footscray, were posted to the photo sharing website on Thursday.
On Friday, however, Lushsux discovered that his Instagram account, which had over 100,000 followers, had been deleted, which he says was a political move by the website.
"The timing is a little bit suspicious considering the DNC is on at the moment," he told 9News. "Facebook is well-known to be a supporter of the Democratic Party. I don't know, it could be conspiracy but it's a bit strange."
The artist pointed out that he found it interesting that his account wasn't deleted after he posted satirical images of Clinton's rival Donald Trump.
"It's fine to go on and do a mural on Trump, but when I go and do one on Hillary Clinton, my account is gone."
"When it comes to taking the p*ss out of conservatives, it doesn't matter on these social media sites," he told 3AW. "The bias is clear."
The street artist has now launched a second account on Instagram and has re-posted some of his previous artwork, including the Clinton mural.
With the new account, he tagged Kevin Systrom, CEO & Co-founder of Instagram, in a post, telling him "censorship of artists on your platform is out of control."
It's not only social media sites that appear to be offended by the mural though, the local Maribyrnong Council have also asked for it to be removed as they deem it offensive, which Lushsux described as "more censorship."