'Grizzly' bear's take down of defenseless cow captured near Yellowstone (VIDEO)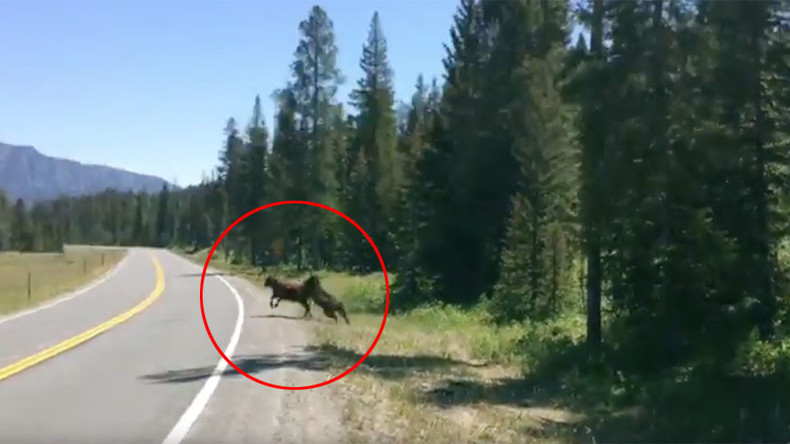 An innocent cow met with a grisly end when it encountered a hungry bear in Wyoming near Yellowstone National Park.
A driver caught the moment on video as the beefy bovine was dragged away by the happy hunter.
Recorded from the safety of inside the car, the bear closes in on the cow as it rushes across a road.
The two animals tussle in a brief moment of un-bear-able tension before the creature with giant claws and powerful fangs ultimately brought down the four-stomached cud chewer that tastes great with a bit of steak sauce.
The video was uploaded by Wyoming Trout Guides Fly Shop, who tried to break up the battle by beeping the car's horn, but failed to distract the bear long enough for the cow to get away.
"I came upon a grizzly bear attacking a cow while on my way fishing," according to the uploader's description, although some on social media question the predator's specific species.
READ MORE: Yellowstone National Park in danger of being 'loved to death'
"Unfortunately grizzly bear/livestock conflicts are a part of life around Northwest Wyoming. Just another reminder to be alert and to carry bear spray when out exploring the Greater Yellowstone Ecosystem!" the video's description warns.
The video has been viewed on Facebook more than 670,000 times.
Some commenters criticized the video for not intervening in the attack, while others praised it for letting nature run its course.
Bears don't always fare so well against cows. This grizzly thought he had a free lunch after breaking into an enclosure until a gang of cows ran it out of town.
You can share this story on social media: