Take the money & run: Crook makes off with $113,000 police cash in failed sting operation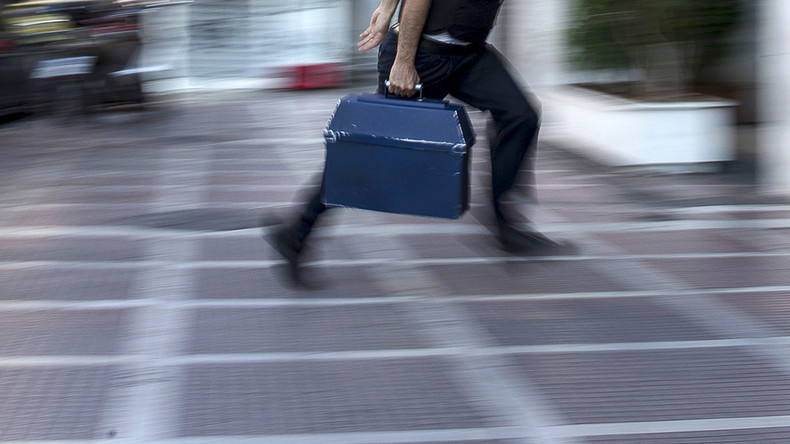 An extremely fortunate drug dealer in Austria hit the jackpot, when he swiftly escaped detention and ran off with over €100,000 ($113,000) in police money in an epic fail of an arrest attempt.
Salzburg police were conducting an operation to smoke out and arrest some drug dealers doing their dirty work in the city, according to Austrian Kurier newspaper.
They had sent an undercover operative to cut a deal with the bandits and lure them into a trap. They were offered some $113,000 in exchange for 7kg of heroin.
READ MORE: Helmet-cam: Motor-cop rides ON TO fleeing suspect, nails it

The bargain was settled and the exchange agreed upon, to take place at Salzburg Airport.
Upon meeting with the undercover officer, the suspect asked if he could check the money – preferably in the officer's car. They started for the parking lot, when all of a sudden the man pulled the suitcase full of cash out of the officer's hands and made off with it in a flash.
No money. No drugs. No criminal.
Kurier states that police have repeatedly tried to track the thief down, but both the man and the money have vanished into thin air.
The dealer's accomplice, a 26-year-old Albanian, wasn't so lucky. He was busted waiting outside the airport and is to appear in court in three days on charges relating to drug dealing – and, thanks to his fleet-footed buddy - theft.
READ MORE: Swedish 'bikini cop' tackles mobile phone thief while sunbathing (PHOTO)
The affair took place last December, but Salzburg police still decline to comment on the embarrassing blunder. A spokesperson, however, told the Kurier that they did not want to comment on the case because the trial was still underway, although she let slip that disciplinary measures might be in store for police officers who were involved.
"It will only become clear whether there are disciplinary consequences after the trial," she said.
In any case, it appears that Salzburg police have already been punished enough, if enough is $113,000. While the smart snatcher is probably basking in the sun somewhere far from Salzburg.