Incredible ceiling-crawler robots weave human wall 'cocoon' (VIDEO)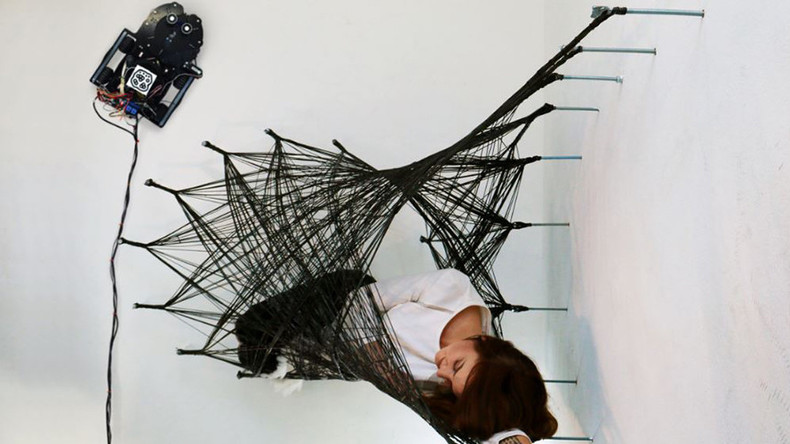 A German mini-robot design team – going by the rather clunky title of 'Mobile Robotic Fabrication System for Filament Structures' – could spell the end of furniture as we know it with their crazy hammock-weaving devices.
Developed by Stuttgart University's Institute for Computational Design and artist in residence Maria Yablonina, the system is being hailed as a game changer in interior design and architecture.
It uses semi-autonomous bots – capable of scaling walls and ceilings like an arachnid – to weave a tangled web of design. The 'crawlers' resemble power sanders but are actually smart robots fitted with sensors that allow them to interact with one another.
Footage of the system in action shows how two robots work in tandem to create a wall hammock fit for a feng shui guru out of filament fabric.
At the moment, human interaction is required in providing an anchoring for the material. However, the robots may one day be able to carry out the job entirely by themselves.
According to the German university, the invention could reduce the amount of equipment required to transform vacant spaces. It also opens up "vast urban and interior environments as potential fabrication sites."
"One can imagine a fabrication process where an operator arrives to the scene with a suitcase housing all the necessary robots and materials to create a large structure," a university statement reads.