'We hate pushbikes': Truck driver soaks cyclists in road rage prank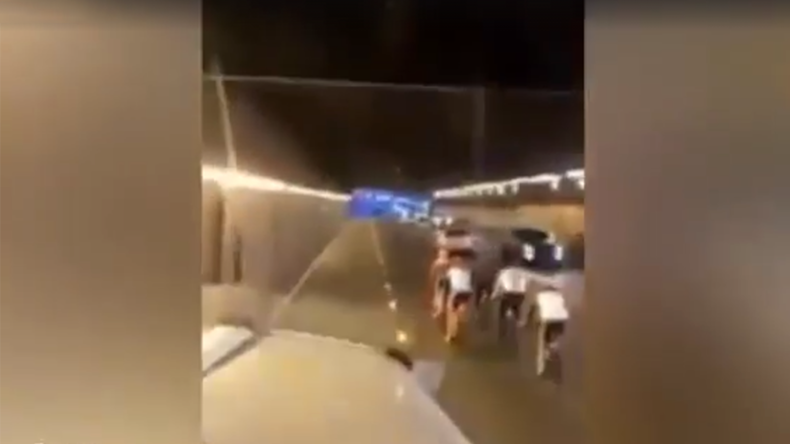 A truck driver in Sydney, Australia, deliberately drove through a puddle of water to drench a group of cyclists – later posting a video of the incident on Facebook.
The footage, which has now been deleted from the original post, showed the driver documenting his prank as he drove through a tunnel at General Holmes Drive, close to Sydney Airport, on Monday.
Despite lamenting that he was not allowed to run over the group who were cycling in the middle lane of the tunnel, the driver found another way to ruin their ride.
"We hate pushbikes so we're not allowed to run them over, but hey, we can f*ck with them," the man can be heard saying.
"Up ahead I see a little bit of water," he continued. "So now's a good time to start an overtaking manoeuvre, I believe. Here we go."
READ MORE: Off-duty cop pulls gun on cyclists in road rage incident (VIDEO)
The driver then pushed ahead and gleefully soaked the cyclists with water, remarking that his "day is complete."
The riders involved did not initially realize they were deliberately targeted by the trucker until they saw the video, according to 7 News
"If the water had affected us to the point where I crashed or took my friends out, or we fell under a passing truck," said one of the cyclists, identified as Blake. "It's just so calculated. The premeditation of the act, he identified us, tracked us for a few seconds."
Police have obtained the video and are investigating the incident.
Luckily, it didn't get violent.
READ MORE: Promo banner crashes on British cyclist at Tour De France (VIDEO)