'Where's your badge?' Off-duty cop pulls gun on cyclists in road rage incident (VIDEO)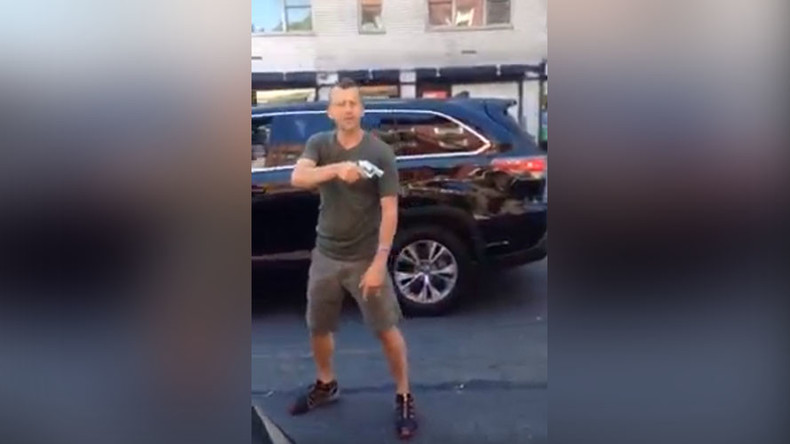 An incident of road rage and possible police misconduct has gone viral after a white off-duty cop pulled his gun on bike couriers, at least two of whom are black.
One of the unarmed cyclists, but not the cop brandishing his weapon, was arrested.
As word of a "gunman" spread through Greenwich Village, an elementary school was even put on lockdown.
Video posted on Facebook by one of the cyclists, Aaron Lawrence, begins after the cop got out of his car and pointed a gun at them.
The cyclists are heard shouting "you almost f*cking hit me,""I have no weapon," and "where's your badge?"
"How are you going to pull a gun out in the middle of the street?" another says.
Friends of one of the cyclists told WABC-TV that the incident began when the driver drove into the cycle lane while police claim the cyclists hit the side of his car.
The man then got out of his vehicle, whipped out his gun, without immediately identifying himself as a police officer.
"My friend kind of screamed at him as he's riding off... he stops his car, and he's getting out of the car. As soon as he gets out of the car, I see a gun in his hand," Lawrence told NY Daily News.
As the cyclists grew more angry, the cop retreated into a restaurant, where he called for back-up.
When on-duty officers arrived at the scene, they arrested one of the cyclists, Dejaune Jones, charging him with possession of a weapon, criminal mischief, menacing, and harassment.
Off-duty cop pulls a gun out on two cyclists he almost hit with his car. Police arrive, arrest cyclist (naturally). https://t.co/Rz3xPX6UKf

— Lauren Krisai (@laurenkrisai) June 14, 2016
The alleged weapon was an ice pick, but the group of cyclists deny this, and no weapon was found.
The police officer has not yet been named, but he is said to be a sergeant.
NY Daily News reports Jones shook the sergeant's hand and apologized as he left the station.
This is not the first time an officer of the law lost his cool on the road.
A Denver cop was caught on video threatening a motorcyclist for honking his horn.