Blindfolded groom tricked into 'bungee' jump by bachelor party pals (VIDEO)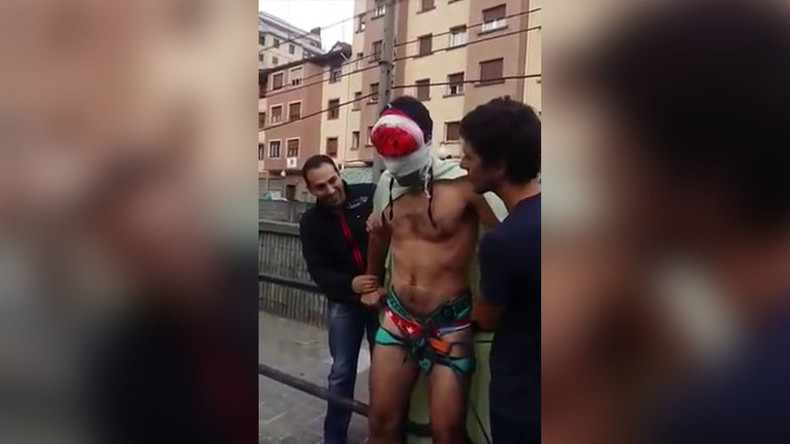 A group of friends tricked this groom into thinking he was about to plunge hundreds of feet in a bungee jump but, little did he know, they had something entirely different planned.
A video emerged of the man in a questionable outfit, which included red and white starry underpants, a cape and a blindfold being led onto a platform in an adrenaline-pumping moment.
Footage shows the group slowly leading the stag to a pretend platform, which in actual fact is just a pavement. He remains clueless though, thinking he is high up in the air about to make a big leap when, in reality, he's about to jump off a curb onto the road, which is no more than a few inches.
His friends pretend to strap the man to a harness as he holds onto what he thinks is the railing of a bridge looking over a gorge, according to the Local.
At one point he panics as a train goes past behind him, but is reassured by his loyal friends who continue to fuss around him.
The man gets nervous and hesitates for a few seconds while breathing heavily and is heard saying, "bloody hell, bloody hell," before taking the big leap.
We'll let you judge his reaction for yourselves.
The video has been viewed over 600,000 times since being uploaded on Thursday and reportedly took place in the city of Irun in the Basque Country of northern Spain.
READ MORE: Practical joker drags sleeping friend's airbed into lake in cruel wakeup call (VIDEO)