One giant leap for dessert lovers: 'Melt-proof' ice cream could be summer game-changer (PHOTOS)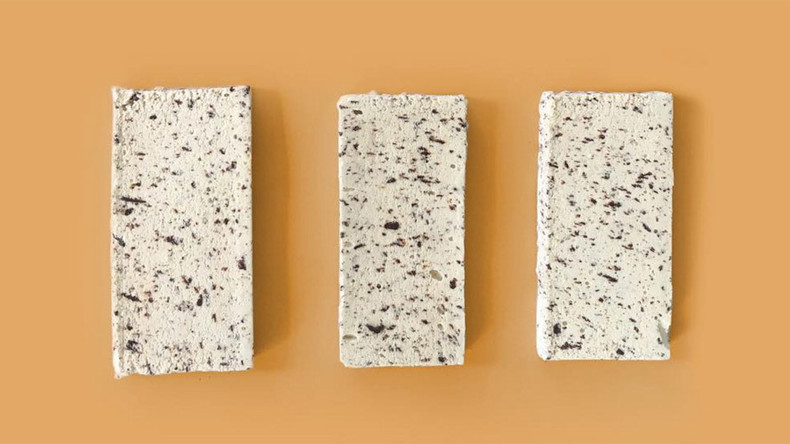 It could be one giant leap for dessert lovers after a food fan has created ice cream that doesn't melt – and on a bonus point, it's all organic.
Rob Collignon, founder of 'Gastronaut Ice Cream', launched a Kickstarter campaign earlier this month to fund his freeze-dried ice cream venture.
While 'Astronaut Ice Cream', which is sold across museums in the US and was reportedly taken into space, is known for its cardboard-like taste and artificial ingredients, the 34-year-old from Brooklyn, New York, decided to produce an alternative that is organic, actually tastes good and – most importantly – does not melt.
The food enthusiast, who quit his job as an office worker to concentrate on his sweet project, uses "super-premium organic ice cream" and the finished product can be consumed at room temperature, which means hot weather wouldn't be a problem.
For over three years, he traveled over 20,000 miles across the US, Mexico and Canada to discover different versions of freeze-dried ice cream to help him come up with his own product.
"Ice cream melts everywhere you take it," he said. "Especially living in a van with no fridge. But my freeze-dried version let me bring ice cream anywhere I traveled. I realized it was great for life on the road, and could be just as good for somebody in an office who wants ice cream without looking like a weirdo."
Different from a frozen version of ice cream, the snack has a crumbly texture, but once consumed is the "exact same sweet and creamy ice cream you've known all your life – but with no brain freeze."
The freeze-drying process involves freezing the substance, then creating a powerful vacuum which is heated to draw the frozen liquid from the ice cream as vapor.
In his crowdfunding campaign, Collignon said his "unmeltable" version can be "enjoyed anywhere on the planet."
His campaign has hit almost $31,000 and after it finishes, Gastronaut Ice Cream will be available online and eventually worldwide in three flavors – Mexican Chocolate Chip, Mint Chocolate Chip, and Cookies and Cream.
Some ice cream fans may not welcome the development, though.
Earlier this week, millions of people tuned into an online betting competition to see which among four frozen desserts would be the first to collapse into a melty mess.
READ MORE: 4mn people watch epic Facebook Live ice-cream melting battle (VIDEO)