POLL: Huge UFO over NY baffles witnesses, what do you think it is? (VIDEO)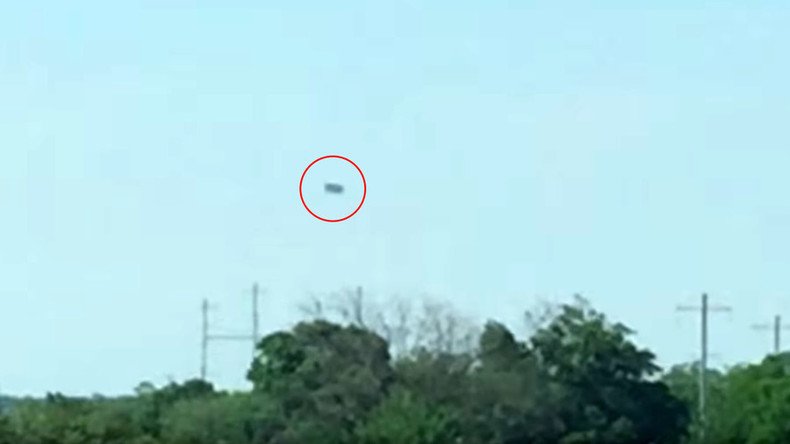 A video shot by confused motorists who spotted a massive UFO has been shared online.
The clip, captured on Sunday, shows a large black object hovering above the New York City skyline. It was visible to drivers making the Outerbridge Crossing to New Jersey.
The footage was shared by "UFO investigators" Secure Team 10, who claim "to bring exposure to the alien phenomenon." They said multiple eyewitnesses submitted clips and reported feeling strange "vibrations," as well as hearing "unnatural" sounds in the area.
Secure Team's Tyler Glockner claimed that this most recent sighting was just the latest of many, which some believe may indicate that "we are on the precipice of a visitation."
The video has been viewed on YouTube more than 200,000 times since its upload on Saturday and has prompted the usual debate.
READ MORE: Couldn't find spaceman, illegally parked UFO gets towed (VIDEO)

Some commenters questioned how a massive UFO could go undetected by the residents directly beneath it, or at least closer to the object.
"Isn't it strange that EVERY single UFO video is of a UFO far away? rarely a video off someone who is underneath it or very close?," wrote one commenter.
"Interesting video Tyler but one or two persons couldn't have been the only ones who snapped this thing on video especially over a big city like New Jersey but still very strange indeed!" wrote Mike Carr.
Others dismissed the ominous object as a "whole lotta nothing" or simply "the government experimenting with a new drone."
We want to know, what do you think the flying object is?
You can share this story on social media: