It's a week since Pokémon is a GO... and here's what it's done to the world so far (VIDEOS)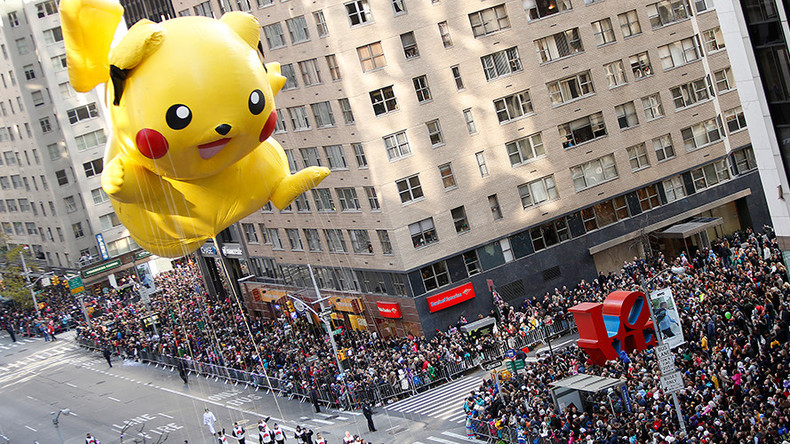 It's made Hillary Clinton attempt comedy, is subject to a fatwa in Egypt, and has prompted its fans to invade inappropriate public and private places. Less than a fortnight after its release, the world has clearly gone Pokemon crazy.
The biggest mobile game of all time has easily eclipsed Tinder and Twitter in daily users despite its recent release. If it continues on its current trajectory, it could soon overtake app giants Google Maps and Snapchat.
With the user's geo-location, the game creates an augmented reality in which players catch Pokémon as they navigate the real world, leading to scenes like this when a rare Vaporeon appeared in Central Park.
Crowds of people staring at their phones, especially around well-known landmarks, have become a common sight since the game's release, earning players the fitting nickname "PokeZombies."
Some people were surprised to learn that their home or business had become a Pokémon hotspot, prompting them to put up signs telling players to stay out and "get a life."
In Florida one man claims to have mistakenly fired shots at Pokémon players parked outside his house. He approached the car and heard one of the teenage occupants ask the other "Did you get anything?" and mistook them for thieves, according to the Orlando Sentinel.
He fired several shots but the teenagers managed to escape uninjured and with some new Pokémon.
Hillary Clinton even got in on the action, attempting to appeal to game playing voters with a Poké-pun.
Pokémon are popping up in some very strange places, including Israel's Presidential Office and the Holocaust Memorial in Washington DC.
MMA fighter Michael Page even incorporated Pokémon Go into his knockout celebration when he mimicked the game by rolling a Pokéball at his floored opponent.
It's not all love for Pokémon, however. A fatwa has reportedly been issued against Pikachu and his pals in Egypt. Deputy chief of the Al-Azhar Islamic institution, Abbas Shuman, said the game was a "harmful mania," comparing Poké-play to being drunk.
Vladimir Putin's press secretary also took umbrage with the new game, telling reporters "Pokémons are not a reason to visit the Kremlin, a treasury of world culture." Dmitry Peskov was unable to confirm if there were any Pokémon in the Kremlin, as he "doesn't play games."
Players had to be warned not to play the game while driving after several drivers reportedly crashed while trying to catch Pokémon. "Please remember that your safety comes before catching that Drowzee or Squirtle!" police in the UK advised online.
READ MORE: 'Don't Pokémon and drive!' Police issue string of safety warnings over viral app