Graveyards, 9/11 memorial & Holocaust museum: Pokémon Go wars waged at ill-suited places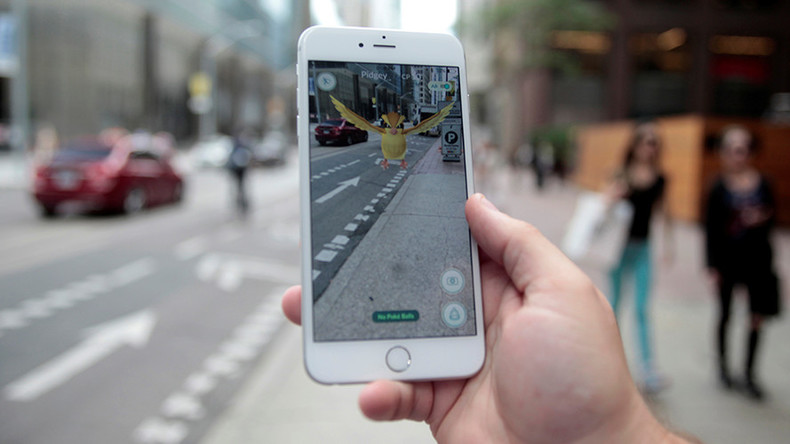 Pokémon Go has been available for less than a week but has already sent millions of players into a frenzy and into a range of unsuitable locations in pursuit of virtual creatures.
Players are staking out real-world sites, and have ventured into public toilets, churches, military areas and even graveyards to throw 'pokéballs' at the augmented reality creatures.
The game includes PokéStops, which are marked real world locations where players have to go to receive items for the game.
READ MORE:A dead body, armed robbers, & traffic chaos: The dark side to Pokémon Go
It appears the Pokémon-obsessed gamers have missed the memo that there's a time and a place for everything - and have no limits on how far they'll go to catch a Pokémon.
Here are some of the most inappropriate places used in the game where the virtual and real world overlap a little too often.
1) The Holocaust Museum
The Holocaust Museum in Washington, DC is the location of three PokéStops.
Andrew Hollinger, the museum's communications director, told the Washington Post, "Playing the game is not appropriate in the museum, which is a memorial to the victims of Nazism."
"We are trying to find out if we can get the museum excluded from the game," Hollinger said. However, Niantic, the mobile game company responsible for Pokémon Go, has yet to respond to requests to remove Pokémon from the building.
An inflammatory image of one of the Pokéman characters taken in the Holocaust Museum has been met with particular scorn. It shows ''Koffing', a round creature which shoots poison gas, in front of a sign for the Helena Rubinstein Auditorium - an exhibit that features testimonials from Holocaust survivors about the Nazi gas chambers.
It's unclear whether the picture was doctored, and the types of Pokémon found in one specific location can vary. The picture has since been removed from Imgur, a photo-sharing website.
The Auschwitz Memorial in Poland has also called on Pokemon Go players to avoid playing the game on its grounds. While the game is not yet available in Europe, with the exception of Germany, some users have found a way to download the app outside the US, Australia and New Zealand.
Pawel Sawicki, a spokesperson for the Auschwitz Memorial told The New York Times that the game was "absolutely inappropriate" and that the game makers have been contacted to "not to allow the site of the Auschwitz Memorial and other similar sites to be included in the game."

2) 9/11 War Memorial

There are at least four PokéStops at this landmark including the twin memorial pools which feature the names of every person who died in the September 11 terrorist attacks.
One player, who had lost friends and relatives in the terror attacks told Time he played the game at the site but later regretted it.
"I picked my head up and kind of realized it's not that great of an idea, it's a hallowed place. Some memorials should be left alone."
3) The White House
The White House has been marked as a 'Gym' in the game and is one of the most sought after in the US. A 'Gym' is where a player can launch a battle to take control of a venue.
Players have been flocking to the President's house in a bid to take it over, virtually of course.
4) Military Bases
US army base Fort Carson were forced to issue a warning to people playing the game on its grounds, urging them to exercise caution.
The phenomenon has even spread to overseas military bases with the characters spotted at military facilities in Japan and Germany, according to Stars and Stripes.
One user was reportedly sent to a 'Gym@ at the Pentagon, while another was encouraged to go to the Korean Demilitarized Zone (DMZ) for his treasure, a location that divides the Korean peninsula in half, separating North and South with a buffer zone.
5) Graveyards
Social media posts have revealed that numerous people have ended up scavenging around graveyards in search of Pokemons.
The US military cemetery, Arlington National cemetery was also reportedly used as a game site.
Other players have been directed to adult gentlemen clubs, hospitals, temples, bathrooms and even real life gyms in their Pokémon quest.
READ MORE: Teen finds dead body while looking for Pokemon with phone game
Meanwhile, vines and tweets that make fun of the game have been rapidly going viral on social media, some of which show police officers trying to "catch them all," while others poke fun at players walking on cars and building rooftops while on the hunt.
Some businesses, however, have been trying to make a profit off this global fever, attracting customers with free water, cell phone charging stations, and various Pokemon memorabilia for nearby players.
One particularly opportunistically-minded driver has reportedly started a $10-per-hour service for Pokemon Go fans who want to find their way around his town quickly to catch as many creatures as possible.