Terrifying moment huge eagle tries to snatch boy caught on camera (PHOTO)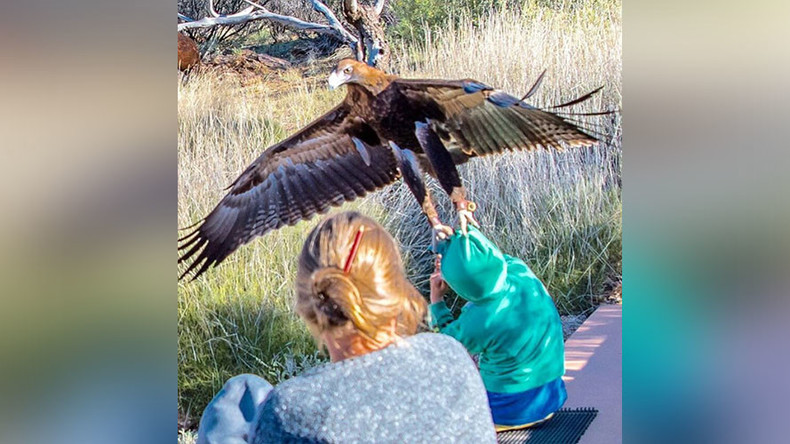 A young boy was injured during a bird show in Australia when an eagle latched on to the child's face and head with its talons and attempted to take off.
The boy, believed to be around six, was thankfully too heavy for the wedge-tailed eagle, which was apparently attracted to the boy because he was fiddling with the zip of his jacket.
The attack lasted for a few seconds before park staff intervened and, while the boy was left with only minor injuries, witnesses reported hearing his screams as he was taken to first aid.
The precise moment of the attack was captured by shocked onlooker Christine O'Connell, who was watching the show in Alice Springs Desert Park on July 6.
"The young boy in the green kept pulling his zipper up and down," wrote O'Connell on her Instagram page.
"For some reason the wedge-tailed eagle did not like it and instead of flying over to the log he is meant to for a photo opportunity he flew straight at the young boy and attacked him," she added.
Another member of the crowd who witnessed the incident, Victorian man Kennan Lucas, told NT News: "The bird then flew over the crowd and tried to grab on to a young boy's head. He screamed, the mother was distraught and the presenters wrapped up the show very quickly."
READ MORE: Aussie woman wakes up to 5-meter python in bedroom (VIDEO)
The park issued a statement following the incident and said they are conducting a "thorough investigation":
"A thorough investigation regarding the circumstances behind this incident is under way and the eagle will be removed from the show while this investigation is ongoing."