In Hank the Cat's pawprints: Hippo the Cat to stand for Russian parliament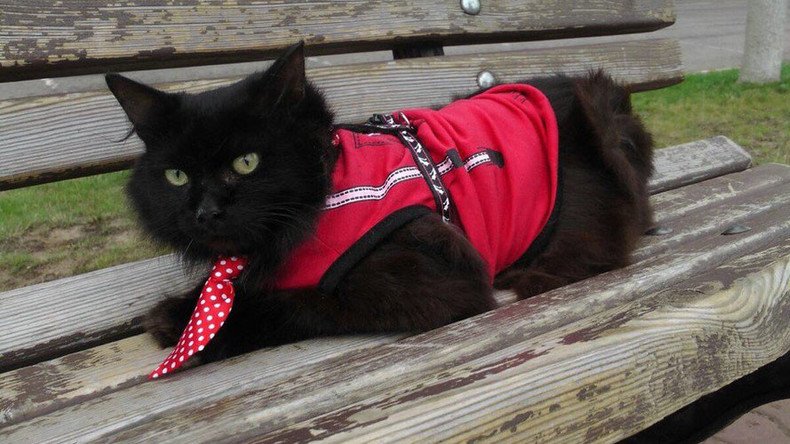 Move over Hank the cat! Begemot from Russia is taking the political scene by storm by pushing for a seat in parliament. The feline from Kostroma, a town on the Volga River some 350 kilometers from Moscow, is ready for some cat power, or so says his team.
"Begemot" (Russian for Hippo), a Kostroma native, is very smart and hard-working. He sleeps little and works a lot, and wants to be become a good deputy," the cat's spokesman Vitaly told RT.
The cat's representatives stated earlier that the cat has done all the necessary paperwork, quoting a Russian animated classic: "All the documents are prepared: his whiskers, paws and tail – they are his documents. He has no accounts or property abroad."
Begemot is reportedly against all political parties, but he favors president Putin.
READ MORE: Russian sailor cats melt hearts of passengers cruising between Moscow and St. Petersburg (PHOTOS)
This is not the first time a feline has tried to enter Russia's ruling elite.
Earlier this year, Barsik the cat from Barnaul, which is in Russia's picturesque Altai region, was registered as a candidate for the parliamentary elections on an official website that had been set up by the ruling party ahead of the race.
However, Barsik's hopes were smashed.
"No, of course that would be impossible. There are strict regulations. Barsik aside, not even every citizen of the Russian Federation can stand for a place in the Duma. For example those who are younger than 21," Duma deputy speaker Andrey Isaev commented in January.
Another furry politician made a name for himself in the States. In 2012, Hank the cat ran for US Senate in the state of Virginia.
His owners, Matthew O'Leary and Anthony Roberts, put him up when they both grew exasperated with the regular political campaigns. A whole fictional website was created for the feline, and he allegedly came in third, after the two major candidates.
Though a joke candidacy, the campaign was built upon a couple of serious points, including ridiculing conventional candidates and raising awareness and funds for animal groups and rescue organizations.
O'Leary and Roberts gained help outside the United States from Svetlana Petrova, a St. Petersburg-based artist who designed a two-dollar bill featuring Hank.
By the end of the campaign, O'Leary and Roberts had raised $60,000, which they intended to donate to animal charities, including one in Russia selected by Petrova.
Downing Street 10 "employs" cats too. There is even a special title for the official resident cat of the Prime Minister of the United Kingdom – the Chief Mouser to the Cabinet Office. Currently, the post is held by Larry the cat, who's been in office since 2011.
You can share this story on social media: