From Australia to US, cities light up for Turkey as darkness falls (PHOTOS)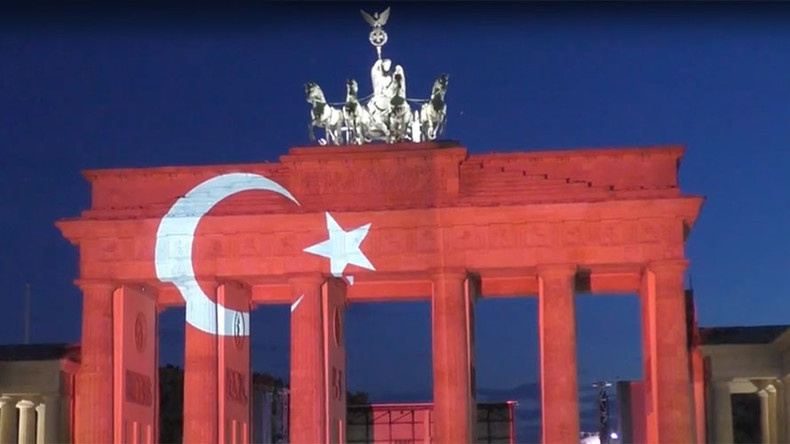 As some bemoaned a lack of support for Turkey in the wake of the Istanbul airport attack, landmarks from Europe to Australia "wrapped" themselves in the colors of Turkey's flag at dusk. In New York lights went out in sympathy with the 42 victims.
In the heart of German capital, Berlin's famous Brandenburg Gate was illuminated with the Turkish national colors.
Some of the people gathered in front of the gate were waving Turkish banners and lighting candles to commemorate the victims of the Istanbul attack.
On Wednesday night, a day after the carnage at Istanbul's Ataturk airport, Paris's Eiffel Tower shone red-and-white in solidarity with the victims and 239 survivors.
Round-shaped projections of the Turkish flag were placed at its foot and within the frame.
Amsterdam has also supported the global campaign projecting the Turkish flag on the façade of its Royal Palace.
The historic Bosnian city of Mostar has turned its iconic bridge across the river into a red tableau with a star and a crescent, symbols of Turkey and Islam.
Kuwait City's symbolic towers have colored their typically blue-and-green globes in red and white as the Muslim country mourns with Turkey.
The solidarity campaign has spread across the ocean, reaching as far as Australia and the US.
While Melbourne expressed its "deepest condolences" with a Turkish flag "covering" the Town Hall..
...Empire State lights, just recently glowing in rainbow colors for Orlando attack victims, now have gone dark for Turkey.
Toronto, Canada's largest city, has also lit up its 3D sign on Nathan Phillips Square in the colors of the Turkish flag.
Earlier on Wednesday, people on social media had virtually accused the world of turning its back on Turkey, questioning whether its response to Turkey's tragedy would be equivalent to the reaction to Paris and Brussels, the two capitals struck by deadly Islamic State attacks earlier this year.
READ MORE: No 'Je Suis Istanbul'? Social media users flag muted response to Turkey attack
Hours after the shooting and the triple blast rocked Turkey's major air hub, Twitter reacted with #PrayForTurkey campaign, bring the hashtag to the third spot among global trends.
You can share this story on social media: