Alligator spotted with dead body in its mouth in Florida lake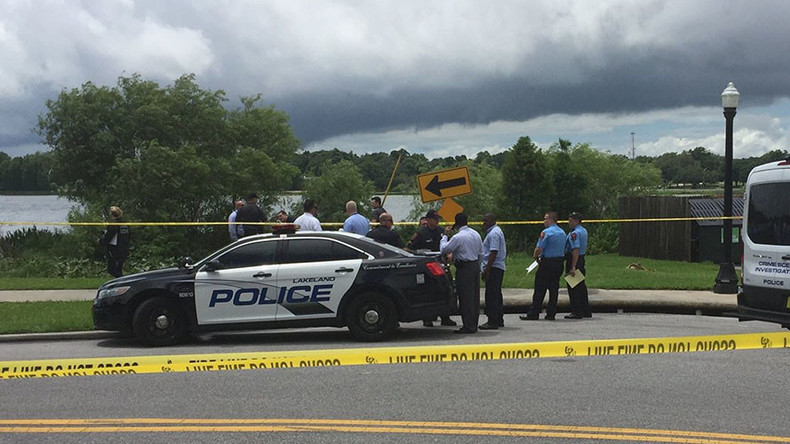 Police are searching for a huge alligator in Lakeland, Florida, after it was spotted roaming a lake while carrying a human corpse in its mouth.
Lakeland Police were alerted to the incident by a worker at Florida Presbyterian Homes, a nearby retirement community, who spotted the gator in Lake Hunter at around 1:40 p.m., according to local station WFLA .
Police attending the scene saw the alligator with the body in its mouth before releasing the remains and swimming off.
The body has been identified as male and is believed to have been in the water for more than one day, according to a police statement.
READ MORE: Alligator bites off arm of Florida man trying to flee the cops
Police are still trying to establish if the man, whose identity is unknown, was killed by the alligator or if he had died before being snatched by the reptile.
A contract trapper for the Florida Fish and Wildlife Conservation Commission Officers captured a nine-foot alligator Tuesday night, but it is unclear if this is the same gator.
Its stomach will be examined to determine if it swallowed any human body parts. If it is ruled out, the search for the gator involved in the incident will resume.
Police revealed they received two other alerts regarding an alligator in the area earlier this week, but did not find anything upon investigating.
On June 4, a person reported finding a shirt in the water, with a pair of pants and backpack, nearby at the Lake Hunter Boar Ramp, and also noted there was an aggressive alligator by the boat ramp during the week.
On June 5, local police received a call from a person who said they had observed an alligator circling something large floating in the lake.
Just last week, a similarly chilling discovery was made by two fishermen who came upon two alligators eating a human body in the Florida Everglades. Police said they did not believe the alligators killed the person and were instead treating the case as homicide.
There have been 337 alligator attacks, including 17 fatal ones, in Florida since 1948 – the highest figure in the country, according to the database StateMaster.
Two deaths were caused by alligators in Florida last year, including that of a burglary suspect hiding from police.
READ MORE: Instant karma: Suspected burglar eaten alive by alligator while hiding from police
Prior to that, the most recent gator-related death recorded in the state was in 2007.