Young girl has tears of joy after receiving doll with prosthetic leg like hers (VIDEO)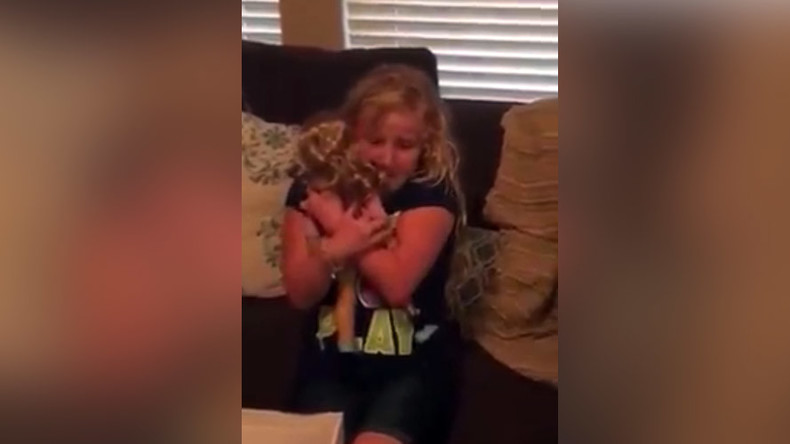 A 10-year-old girl had the most heartwarming response after her parents gifted her with a specially made doll, which was outfitted with a prosthetic leg just like hers.
With the help of a company called "A Step Ahead Prosthetics," mother Courtney Fletcher Bennett was able to surprise her daughter Emma with the crafted doll and posted a video of the moment on Facebook, which has garnered over 26 million views since Wednesday.
me & my mom are just sitting here crying over this video of a girl w a prosthetic leg who got a doll w one too it's so cUTE

— ky (@hilliard_kylie) June 2, 2016
someone posted a video of a girl with a prosthetic leg getting a doll with a leg that matches hers. now i'm an emotional wreck at work.

— BJ Matthews (@bjmatthews13) June 2, 2016
Emma is seen opening the box, without any clue of what is inside before picking up a letter that was also inside the box.
In seconds, she excitedly sees the doll and is overcome with joy, exclaiming: "You've got to be kidding me!"
Moments later, she bursts into happy tears. "It's got a leg like me," she cries. "I love you!"
The makers of the toy said on their website that they don't charge families for customizing dolls to have prosthetic legs.
"We feel that it is absolutely crucial to boost the self-confidence, self-esteem and feelings of inclusion for little girls with limb loss, and that something as small as a doll that resembles them can have a profound effect on their mental and physical well-being," A Step Ahead Prosthetics explains on its website.