Karaoke cop: Policeman breaks up Glasgow bar fight & belts out disco classic (VIDEO)
Published time: 3 Jun, 2016 15:01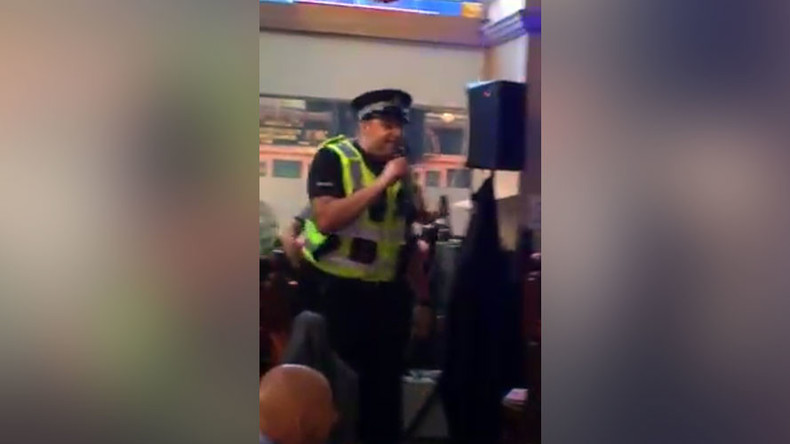 A Scottish sergeant has become an overnight internet sensation after a video of him belting out Gloria Gaynor's disco classic 'I will survive' just moments after breaking up a bar fight went viral.
The karaoke-singing cop has even garnered praise from the lady herself, who took to Twitter to give her stamp of approval to his rendition.
The video, recorded at the Waterloo Bar in Glasgow, and uploaded to Facebook by a customer has now been viewed over 710,000 times.
Sergeant Jon Harris was among 10 police officers who responded to an incident at the popular gay bar where an expelled customer was attempting to force his way back into the pub, according to The Scotsman.
STV reports one man, 23, was arrested in the incident.
With the situation under control, 'Sergeant Jon' gave in to a song request from the bar's karaoke host Katie Boyle, taking to the stage and belting out his version of the disco classic, "I will survive."
His performance was met with cheers and applause from the 'audience' while his colleagues watched on.
Chief Inspector Mark Sutherland, area commander for Glasgow city centre, praised his officer's actions, saying the impromptu performance "helped to defuse" the pub's tense atmosphere.
"Sgt Jon took to the stage, which helped to defuse any simmering tensions in the pub. I was pleased to see that once the incident had been professionally concluded, my officers were able to share a lighter moment with those who remained in the pub," Sutherland said.
As well as being applauded by Gloria Gaynor, Sergeant Harris' musical diversion has received widespread approval online, with many on social media commending his good humor and police in Scotland generally.
Scotland police have been gaining good PR from a number of videos demonstrating their officers' sense of humor. They were among the first police forces to take part in the viral Running Man Challenge created by cops in the US.
READ MORE: #RunningManChallenge pits US police against each other in dance battles (VIDEO)
Meanwhile, earlier this year two Scottish police found internet fame after a video of them singing and rapping to The Barenaked Ladies hit One week in their car was uploaded by a teenager they were giving a lift to.