Facebook sorry for banning plus-size photo that 'violated health & fitness standards'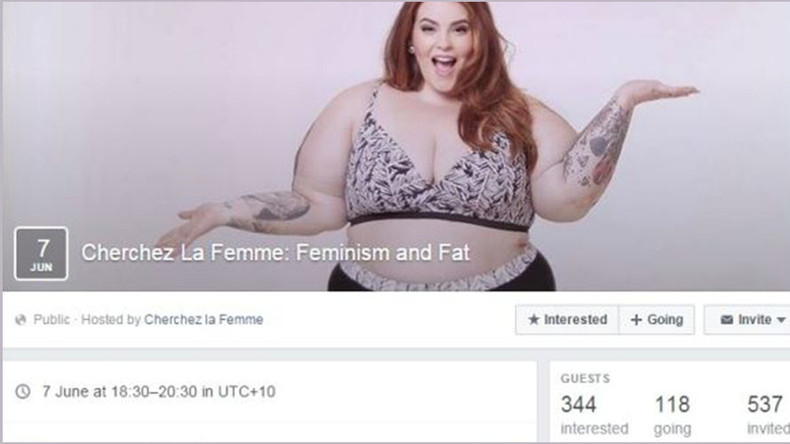 Facebook has apologized for deleting a picture of a plus-sized model who they initially said violated their "health and fitness standards" and depicted "body parts in an undesirable manner".
The photo was used to promote a talk show called 'Feminism and Fat' by 'Cherchez le Femme', an Australian group with an "unapologetically feminist angle" on news, current affairs and pop culture.
The woman pictured is Tess Holliday, an American plus-size model who has advocated for body positivity.
READ MORE: Women photoshop men's nipples onto breasts to protest 'sexist' social media policies
When the group appealed against Facebook's rejection, the social network initially defended the decision by telling the group that the photo failed to comply with their "health and fitness policy".
"Ads may not depict a state of health or body weight as being perfect or extremely undesirable," Facebook wrote. "Ads like these are not allowed since they make viewers feel bad about themselves. Instead, we recommend using an image of a relevant activity, such as running or riding a bike."
READ MORE: Facebook workers routinely prevented conservative news from trending – former employee
However, Facebook backtracked on its initial statement and apologized for the photo ban Monday by saying the photo did, indeed, comply with its guidelines, blaming the error on a busy schedule.
"Our team processes millions of advertising images each week, and in some instances we incorrectly prohibit ads," they said in a statement. "This image does not violate our ad policies. We apologise for the error and have let the advertiser know we are approving their ad."
This isn't the first time Facebook has landed itself in hot water over censorship, or lack thereof.
Last week, conservative activist Lauren Southern was banned from Facebook for 30 days for posting (ironically) about a friend that was banned for posting a pro-Donald Trump message.
READ MORE: Brazil to sue Facebook for blocking photo of indigenous woman from 1909
Earlier this month, former Facebook workers claimed they routinely prevented conservative news stories from appearing on the site's 'trending' news section, Facebook denied the allegations by saying it wouldn't be "technically feasible".
Facebook's bias toward nudity has been a constant source of conflict for the social media site's users.
While nude pictures of women like Kim Kardashian are shared widely on the site, a topless image of an Aboriginal woman was removed for "violating community standards" in March.
READ MORE: Facebook censors photo of Denmark's Little Mermaid statue for 'sexual undertones'