Facebook censors photo of Denmark's Little Mermaid statue for 'sexual undertones'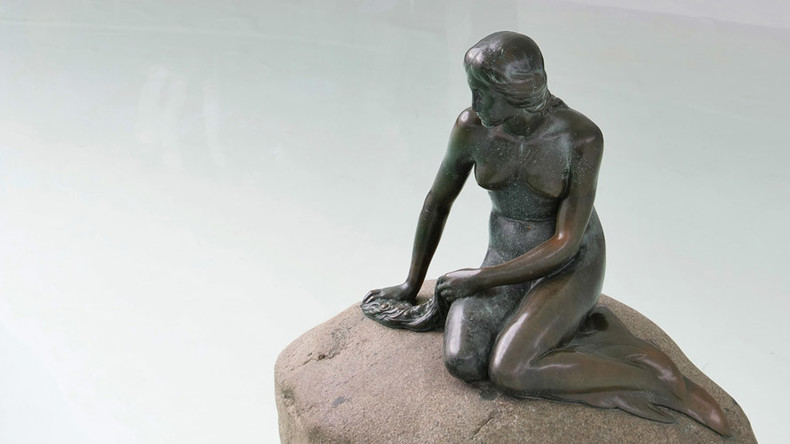 They may not be willing to censor racist or violent comments, but Facebook is going after Copenhagen's iconic statue of the Little Mermaid for showing "too much bare skin or sexual undertones".
The offending image was posted by Danish politician Mette Gjerskov to advertise a blog post on TV2's website.
"I cannot advertise my blog because TV2 chose the mermaid as an eye catcher," Gjerskov said on Facebook, following the notification. "I hadn't seen it coming, that our national treasure is categorised on the same level as child pornography and that kind of abomination."
Facebook states users cannot post "images of people in positions showing or suggesting sex or images of nakedness and cleavage. Not even if it has artistic or educational purposes."
Gjerskov isn't taking it too seriously, but appealed the decision taken by Facebook on Sunday night. Facebook reversed its decision to censor the sculpture on Monday.
In an unfortunate twist, TV2 then decided to use another image instead of the Little Mermaid due to concerns over copyright.
According to The Local, the family of the sculptor is known to be aggressive about the copyright surrounding Denmark's most iconic landmark. Multiple media organisations have been billed for using images of the sculpture.
"TV2 has removed the Little Mermaid from my blog because it risks a large bill due to the copyright. Apparently one can't publish photos of our national treasure without a substantial payment to the artist's heirs," Gjerskov said.
Disney's version of The Little Mermaid has been criticized in the past for its sexually-suggestive imagery.
Parents got upset when someone spotted a penis-shaped castle tower on the cover of the film's home video release. The myth-busting website Snopes got to the bottom of the controversy by speaking directly with the artist, who said his accidental art was a rush job at "about four in the morning".
Others like to point out the 'pitched tent' in the minister's robe.
Facebook's high-profile takedown of artwork with nudity and breastfeeding photos contrasts with its less than aggressive policies towards hate speech and pages like the "Roast Busters" rape club in New Zealand, which was active for two years before a journalist exposed it following a publicized rape case.
In March, Facebook announced updated guidelines: "We remove photographs of people displaying genitals or focusing in on fully exposed buttocks. We also restrict some images of female breasts if they include the nipple, but we always allow photos of women actively engaged in breastfeeding or showing breasts with post-mastectomy scarring. We also allow photographs of paintings, sculptures and other art that depicts nude figures."
Fuck yeah C☆NDY mag!!! limited edition available in 9 different covers next weeeeeeeeeek!! 📸 by Terry Richardson#CandyTransversal #CandyCyrus #C☆NDY9

Posted by Miley Cyrus on Friday, November 13, 2015
Sometimes, Facebook fails to understand what it sees, like when it censored this image of an elbow, which the social media site thought was a giant breast.
Or this arm that Facebook thought was a giant penis.
Facebook even banned the name of a town in Ireland for being "offensive." Effin is a real town, but because it sounds like an alternative to the word f***, it was censored.
The site has previously deactivated pages calling for protests, like Tower Hamlet Greens and the London Student Assembly in 2011. Facebook uses algorithms to block links to competitor Tsu.com.
Reports of Facebook using its power to block anti-GMO content and criticisms of the Trans-Pacific Partnership suggest an inconsistent approach to censorship and free speech.
You can share this story on social media: